If you need urgent NHS mental health support, call our Mental Health Central Access Point.
0808 800 3302
24/7  free helpline for people of all ages in Leicester, Leicestershire and Rutland
Offering round-the-clock access to urgent support, signposting and referral for yourself  or on behalf of someone else.
Calls are handled by Turning Point's experienced recovery workers and they are supported by NHS  clinicians.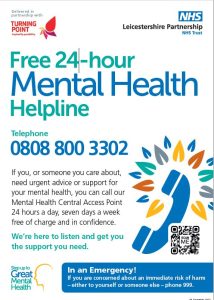 Download our English Central Access Point poster Here
If you don't know where to go for the right help, please take a look at our English traffic light poster  Here
Other languages to download: Somali; Urdu; Bengali; Punjabi; Arabic ; Polish; Gujarati.

Crisis Cafes
As well as our 24-hour helpline, we have started to open crisis cafes. These are drop in centres for anyone to come and talk to us about their mental health – no appointment needed. There will be 25 cafes eventually and they will be spread across Leicester, Leicestershire and Rutland.
Where to find the cafes – click here
The three that are open are:
Market Harborough
Leicester City
Loughborough
If you are deaf and have urgent mental health needs, you can use the NHS 111 British Sign Language service available here: https://interpreternow.co.uk/nhs111
If you have difficulties with your vision, we can provide large print, braille or audio. Please call 0116 295 4747 or email requestsujala@leicspart.nhs.uk
Existing service users and referrers are advised to continue using the contact details you have been provided with between 9am – 5pm. If you have an urgent need outside of these hours please contact the Central Access Point.
Click here for Easy Read.
For under 18s
For people under 18, or if you care for someone under 18 who is not currently supported by our Child and Adolescent Mental Health Services (CAMHS), please call the Central Access Point.
For professionals making a referral to CAMHS (Child and Adolescent Mental Health Services), please continue to use existing referral routes.
Click here for Easy Read for under 18s.
Dial 999 if there's an emergency
Call 999 or go to A&E now if someone's life is at risk – for example, they have seriously injured themselves or taken an overdose.
If you are unsure or worried about what you might be feeling or experiencing
You should consider calling NHS Direct on 111 or your GP to make an urgent appointment.
You can use the NHS mood self-assessment tool to help you better understand how you've been feeling, and to point you in the direction for helpful advice and information. Please note, this tool is not intended to replace an appointment with a GP.
If you require non-urgent help, visit our emotional wellbeing support page for local resources and options.