LPT to recruit mental health peer support workers
Leicestershire Partnership NHS Trust (LPT) will recruit people with experience of mental health illnesses as dedicated peer support staff for service users.
This new role is just one of the improvements LPT is introducing as part of its current transformation of its mental health services.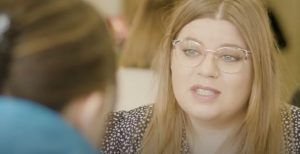 The peer support workers will use their personal experiences of mental health issues and services to bring hope to current service users and empower them to feel confident to take actions towards recovery and live independently where possible.
Peer support work will take place in each community mental health team and in assertive outreach, as well as further roles recruited to work in LPT's child and adolescent mental health services (CAMHS).
Latest update 
Our second peer support accredited training finished in June 2021 with 18 people completing the course, and the next group started their training in September 2021. The next course with spaces starts in October 2022. 
If you want to know more about the role, then take a look at our video to see what four peer support workers have done. Click here
The training is delivered by an organisation called ImROC which is nationally and internationally recognised for its quality and role in promoting the recovery approach in mental health. In future, our Recovery College will be taking over the training, with ImROC providing continued supervision and accreditation to our facilitators.
We will soon be advertising more peer support worker roles through our normal channels and these will be open to anyone who has had the peer support worker training, or equivalent, through LPT or elsewhere.  Our  recruitment of peers will aim to reflect the diversity of the local population by employing people with a diverse range of mental health illnesses as well as life experiences, particularly people who are historically at the receiving end of health inequalities, such as those in the LGBTQ+ or BAME communities.
First cohort of ImROC training took place at LPT in July 2019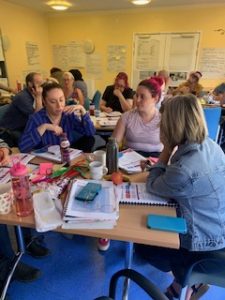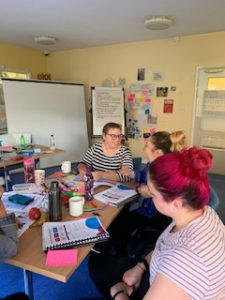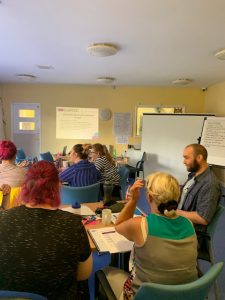 What is a peer support worker?
A peer support worker is someone who has their own experience of mental health challenges and who usually has received support from secondary mental health services. Peer support workers have perspective and understand what it takes to recover and live well with mental health conditions.
This personal experience can help others on their recovery journey, through promoting hope and providing support based on common experiences. Peer workers are recruited because of their journey, experiences and their passion to support others.
A peer support worker is;
• Someone who is employed specifically as a result of their experience
• Someone with lived experience of mental health challenges
• Someone who has the ability to share their journey with others
• Someone who can motivate, inspire and encourage others
What qualities do you need to become a peer worker?
Peer workers need to be able to:
• Work with people collaboratively, allowing people to lead their own journey and make their own choices
• Inspire hope for a person receiving services and encourage them to believe in their potential and strengths
• Value individuality; accept people for who they are and where they are at
• Be free of judgement and assumptions about a person and their experiences
• Be committed to supporting people to improve their health and wellbeing
• Be able to recall and share their own mental health experiences to inspire recovery in the lives of others
More information
For more information please contact LPT Community Development Leader Teresa Spilsbury . Email lpt.psw@nhs.net or call 0758 767 2834.