Membership is all about local people being able to have greater input into how the services provided by the NHS are developed and delivered. Here at the Leicestershire Partnership NHS Trust (LPT), we are dedicated to ensuring that our members are a real community of influence and are able to be as involved as they would like to be.
LPT provides a number of community based health services as well as community hospitals and in-patient services for people with mental health difficulties and learning disabilities. We know that a vast number of people living in Leicester, Leicestershire and Rutland use the services we provide every single day. That is why it is so important that our communities are able to have their say in how the services are delivered.
We already have over 2,500 public, service user (patient) and carer members and we are keen to keep growing that number so that as many people as possible can be involved and have their say.
We are also keen to support our members in de-stigmatising issues such as mental ill-health as this is much more common than many people believe. It touches many of us. In fact, one in four people in this area will seek support from us for mental health problems during their lifetime – from mild depression, stress or anxiety to schizophrenia, eating disorders and dementia. Some of us will live with or know someone who is affected by mental ill-health. You may know or care for somebody with a learning disability. In the UK there are currently 1.5 million people living with a learning disability, and 200 babies each week are born with a learning disability.
If you are over 16 years of age and you'd like to become a member, read on!
Become a member
To join us, simply click here and fill in the online form.
This is our membership charter – we wanted an easy way for our members to see the benefits of being a member, and our pledges to them. We hope it will emphasise the benefits for two way engagement between our members and LPT.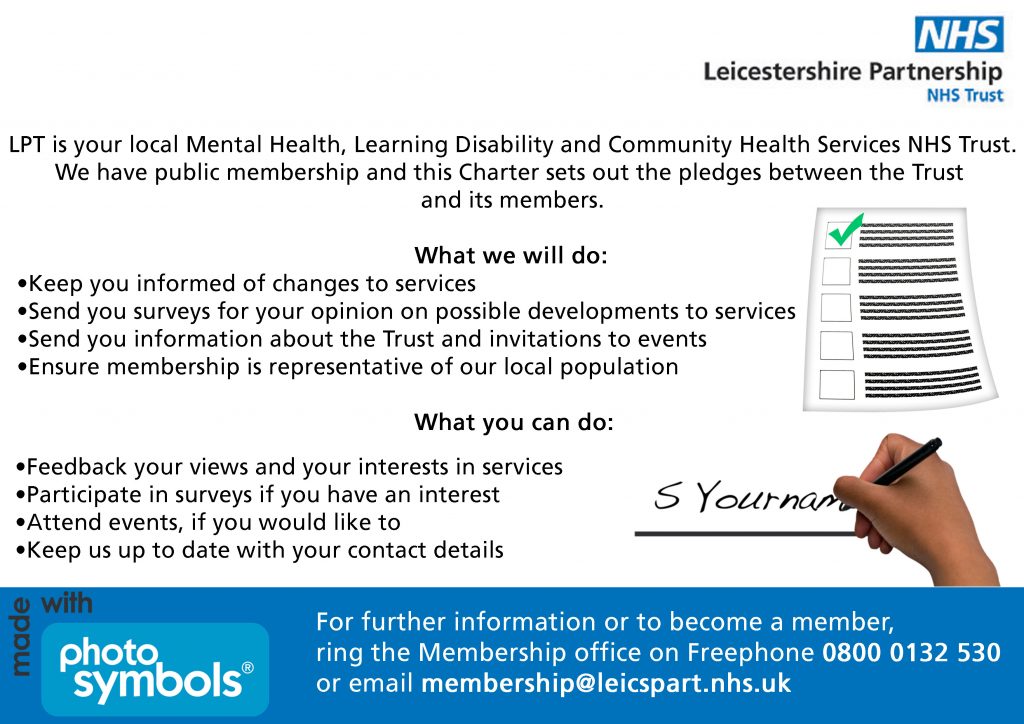 Getting Involved

Hear My Voice is focused on getting service users, carers and local people involved in transforming mental health and learning disability services. We are increasing ways of service users, carers and local people working with us to co-design services for the future. If you are interested in getting involved and would like to receive updates, sign up here and select 'Hear My Voice Volunteer'.
Is there anything you'd be interested in learning more about? If you are a member of a group or community with 20 or more members and would like one of our professionals to join you to talk about any of our services please contact the membership office.
If any of these activities are of interest to you, or if you would like more information, please contact the Membership office on freephone 0800 0132 530 or by e-mailing membership@leicspart.nhs.uk.