Service description
Many families have difficulties or issues that they have struggled with and been unable to resolve. These often relate to communication and / or relationship issues. Family therapy offers families the opportunity to discuss their difficulties and work together to find new solutions, enabling them to rebuild and reclaim their relationships.
We find that when family members talk together in this way, in a neutral setting, it can lead to an increased understanding of their difficulties and of each other. It can also provide opportunities for them to harness their strengths and resources as a family, strengthen important relationships and find new ways of dealing with their difficulties.
Research shows that family therapy is useful for children, young people and adults experiencing a very wide range of difficulties and experiences including:
Families who want to build closer and happier relationships.
Families facing special challenges like alcoholism, mental illness, physical illness, bereavement, eating disorders, ageing, family conflicts, cultural adjustments, trauma, etc.
Families who are worried about their children's behaviour.
Families who are fostering and adopting children..
Any family who would like someone to help them talk about difficult things together in a way that's safe, open, creative and useful.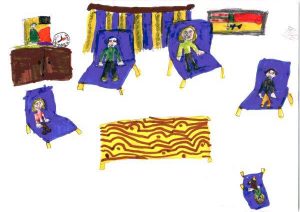 Referral criteria
Children and young people known to CAMHS can be referred for CAMHS family therapy by their lead professional within CAMHS.
CAMHS also offers a community family therapy service. This self-referral service is suitable for families where children and young people do not meet the threshold for specialist CAMHS, but may be exposed to multiple risk factors for developing poor mental health. Our family therapists aim to work preventatively to decrease the likelihood of the children and young people developing mental health issues that necessitate their referral into specialist CAMHS.
Who to contact if you need an interpreter or information about disabled access
Contact us on 0116 295 2909 as soon as you receive the appointment letter.