Reduced services due to Covid-19
Together with the rest of the NHS, Leicestershire Partnership NHS Trust is preparing for the unprecedented demands of the coronavirus (Covid-19) outbreak. During this time, your care may change a little, for example it may be delivered in a different way, or may have to be postponed for a while. We will try to explain why we have to take these steps below.
As a result of the outbreak, we are prioritising the care we normally provide, and some services will be restricted or closed. We will be writing to patients who are affected. If you were expecting to attend one of our clinics in the next few days and have not received a letter, please phone the number provided on your original appointment letter to confirm whether you should still attend.
To see whether one of our services is affected please click here: https://www.leicspart.nhs.uk/service-update/
Service description
We are a small team offering support to all members of the Gypsy, Showmen and Traveller Communities of all ages within Leicester, Leicestershire and Rutland. We only work with Gypsies and Travellers. We use our experience and understanding of your culture to promote public health in the community.
We will come and visit you wherever you are living or a place that suits you and us. We visit adults, children and babies. We can also help you access a local GP, dentist or optician. We can help you to improve your health by giving advice, remind you to attend health checks and screenings, tell you about other services and refer you to them if needed. We can also give information on childhood injections (immunisations).
The Travelling Families Team now have a confidential text messaging service where you can get advice and support. Text us on 07520 615 384 (text only).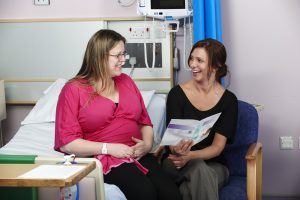 Referral criteria
Referrals can be made by any agency or self referral on 0116 295 8759.
Who to contact if you need an interpreter or information about disabled access
Tel: 0116 295 8759