Health leaders in Leicester, Leicestershire and Rutland (LLR) are encouraging all adults (18+) in LLR that are yet to have either their first or second dose of the Covid-19 vaccine to get vaccinated this weekend.
As part of a national initiative the NHS in Leicester, Leicestershire and Rutland (LLR) have organised a series of Covid-19 vaccination clinics across the city and counties starting on Friday 25 June and running daily until Sunday 27 June 2021.
In a continued effort to stop the spread of the virus, the big vaccination weekend has been set up to make getting vaccinated as convenient and as easy as possible for all eligible people across LLR – simply walk-in to a clinic close to your home, when convenient for you.
Clinics will be administering either the Pfizer or AstraZeneca vaccine and will be offering both first and second doses. As cases continue to rise across LLR it is essential that people come forward not only for their first dose but also to take up their second dose to provide them with the maximum protection possible against Covid-19 and its variants.
Caroline Trevithick, Executive Director of Nursing, Quality and Performance at the Leicester, Leicestershire and Rutland CCGs, said: "It's crucial that as many local people as possible have their Covid-19 vaccinations, that's why our teams have been working incredibly hard behind the scenes to organise a weekend where we have as many vaccination clinics open across LLR as possible. It was even more important for us to support local residents by offering as many clinics as we can and at times and locations that is convenient for the majority of people.
"The vaccine is the best defence we have against the Covid-19 virus and by getting vaccinated you will not only protect yourself, but you'll be helping us to build resilience which in turn will help to reduce the spread of the virus in our local communities. If you have any questions about the vaccine our staff at all of our weekend clinics can discuss this with you – please don't delay having your vaccine."
Walk-in vaccination clinics open across LLR this weekend: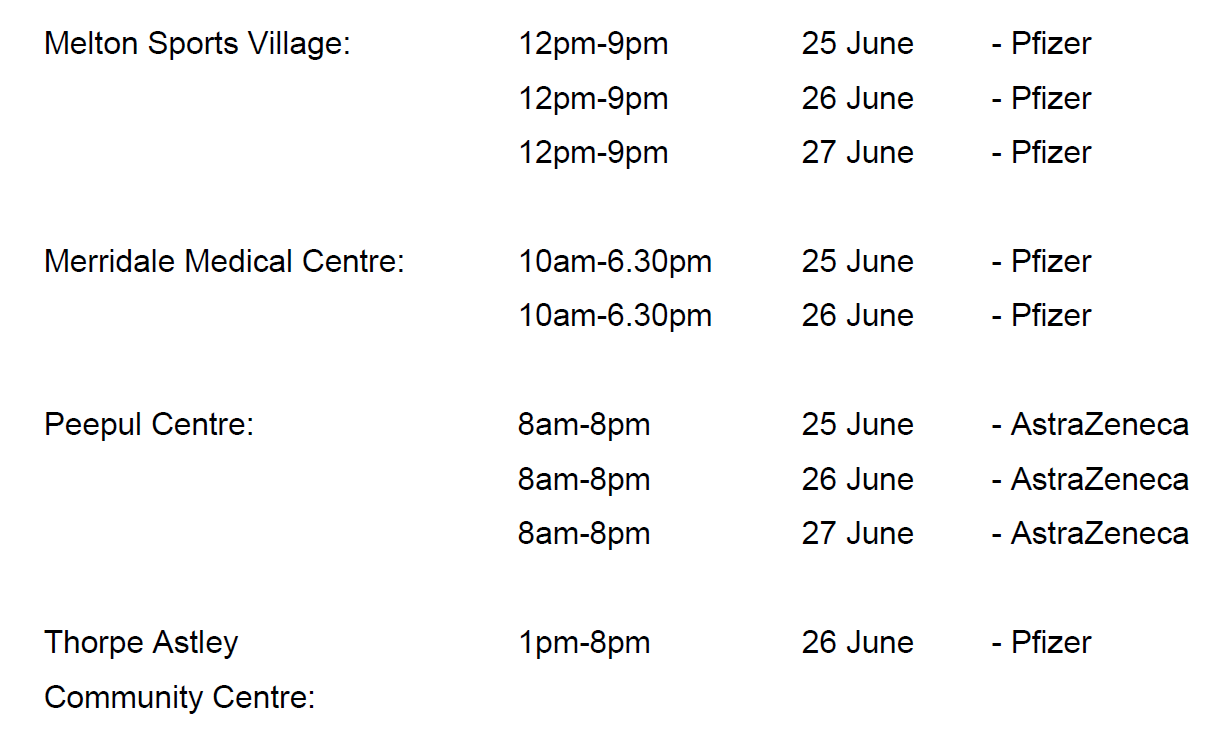 For all the up to date information including a full list of clinics and how to find them, please visit: www.leicestercityccg.nhs.uk/big-vaccination-weekend/
Clinic information will be updated throughout the weekend so please check before visiting any of our sites. Appointments can be booked via the National Booking Service for vaccination clinics running from next weekend onwards.