Our values are Compassion, Respect, Integrity and Trust, which we keep at the heart of everything we do. Watch our short film to find out more:
Our strategy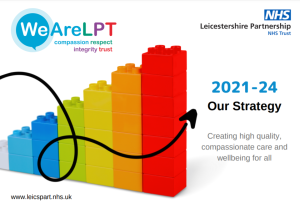 Find out about how we are improving the quality and safety of our services through our Step up to Great strategy, and watch our animation to see more:
Our clinical plan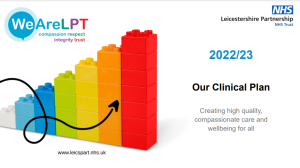 We are also pleased to present our clinical plan for the trust. It has been developed within the context of the area we serve in Leicester, Leicestershire and Rutland and the new Integrated Care Partnership.
---
Our leadership behaviours
Our leadership behaviours framework set the standards of expectation we aspire to in our daily work. Meeting these standards and developing the capability to exceed them, will not only ensure that we continue to improve and respond flexibly to changing needs as an organisation, but will also help our staff to fulfil their potential, both in terms of personal achievement and career advancement. The behaviours we expect to see at LPT are: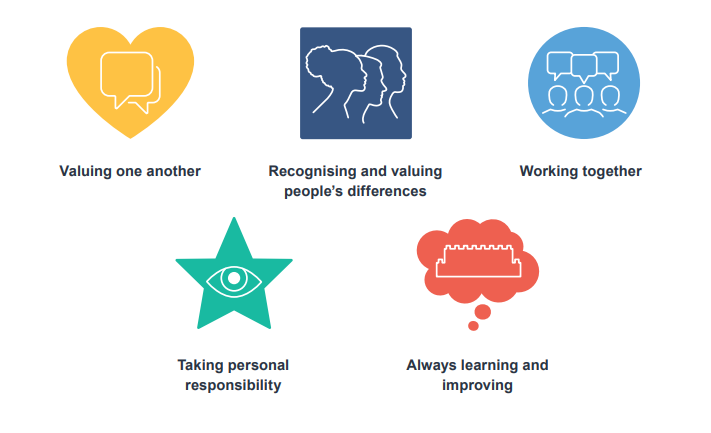 This framework is also intended to join up all elements of our people management, from job design to recruitment and selection, induction and ongoing professional development to appraisals, in order to ensure we are as consistent and effective as possible. We will be supporting each other in the delivery of these leadership behaviours so we can all Step up to Great together.
Download the leadership behaviours booklet or watch the animation below to find out more:
Our People Plan
Our People Plan shows our dedication to making LPT a great place to work and receive care. It promises that we will lead with compassion and inclusivity, with the health and wellbeing of our staff at the heart of all we do. It shows how we will work together to create an inclusive culture, where there is no discrimination or bullying. Through effective workforce planning we will nurture and support our staff to progress and flourish, offer them opportunities to deliver care through new models and in new roles.
You can read our People Plan here.
Our Green Plan
Our Green Plan sets out how the Trust will support the transition to a Net Zero NHS and help achieve the ambitious Net Zero targets.
The Trust has recognised the importance of environmental sustainability and the role it must play in reducing the impacts of climate change.