Our Diana 20th Anniversary appeal, which is raising funds for resources and equipment that will enhance the care provided to poorly local children in the community, featured as the charity of the year at the recent Leicestershire and Rutland Construction Dinner.
The annual Leicestershire and Rutland Construction Dinner, where the Craftsmanship Awards are presented, recognises and celebrates excellence in local building and construction projects. More than 100 representatives from the local construction industry attend, along with their clients and guests. Each year, the event chooses a local (often smaller and less well-known) charity to support, and this year it was the turn of The Diana Children's Community Service.
The Diana Service includes nurses, physiotherapists, healthcare support workers and family practitioners, and is named after the late Princess Diana. It offers care and support to children and young people with acute and ongoing nursing needs, including those with life-limiting and life-threatening conditions, in their own homes. To mark its 20th anniversary, a fundraising appeal was launched to buy equipment and resources above and beyond core NHS provision in order to enhance care, particularly at the end of life.
Palliative care lead nurse Julie Potts, and operational team lead Corinne Hutton (pictured below), were invited to speak at the dinner on 3 October, and outlined the team's specialist, holistic approach and the impact it has on families at the most difficult time in their lives. Thanks to the extremely generous donations on the night, Julie and Corinne were able to accept a cheque for £1,400 from Mike Coles, chair of the Local Joint Consultative Committee which hosts the dinner.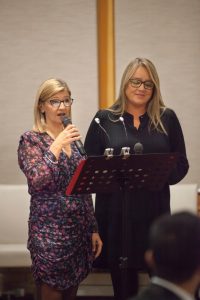 Mike said: "It was an honour to invite Julie and Corinne to the event and to hear about the wonderful work they and their team do in our local community. I'm delighted that we have been able to support this fantastic appeal."
In a surprise twist to the evening, members of staff from the Westminster Building Company, who had won two Merit Awards during the evening, decided to take part in a spontaneous press up challenge to bolster the fundraising efforts, adding another £375 to the total raised for the Diana Service.
Julie said: "On behalf of the Diana Service I'd like to extend my heartfelt thanks to everyone attending the event who contributed so generously. It will mean such a lot for the families we work with and make an important difference for the children in our care."
More information about the Diana 20th Anniversary Appeal, including details of the items the money raised will go towards, is available at www.raisinghealth.org.uk/appeals/diana-20th-appeal .