Leicestershire Partnership NHS Trust has come together with health, education and local authority partners to launch a new poster to help young people understand how to look after their emotional wellbeing and where to go for help, to coincide with Children's Mental Health Week (6-12 February 2023).
The new traffic-light-style poster, along with comprehensive online booklets, is being shared with secondary schools across Leicester, Leicestershire and Rutland (LLR). The information will also be available on the Leicestershire Partnership NHS Trust website, under the mental health support pages.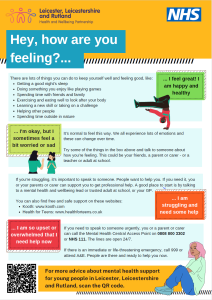 John Edwards, associate director for transformation in mental health in the LLR NHS said, said: "A wide range of mental health support is available for young people across Leicester, Leicestershire and Rutland (LLR). Partners across the NHS, local authorities and education settings are all trying to support young people's mental health – but it can be difficult to know where to start if you're a young person who needs help, as the support isn't all provided by one organisation.
"By coming together with our partners, we have tried to streamline what help is available to make it easier for people to get the right help and advice they need at the right time."
Some of the support available for young people, highlighted in the poster and booklet, includes:
the award-winning Health for Teens website which has launched two new videos on coping with exam stress and body image
the Healthy Together school nursing service which supports all primary school-aged children across LLR and secondary school students in Leicester.
the ChatHealth text messaging service
the ChatAutism text messaging service
and the new Teen Health services provided by the Leicestershire and Rutland county councils.
Many of these support services can be accessed through schools. Another service available in almost 100 primary, secondary and special schools in LLR is Leicestershire Partnership NHS Trust's new and expanding Mental Health Support Teams (MHSTs) service. This January, LPT saw an additional 10 trainee educational mental health practitioners (EMHPs) begin working in schools as part of the final step to complete their training.
The service provides three main functions:
Delivering care in school for children and young people with mild to moderate mental health issues, such as low mood, mild anxiety and worry. This is done by providing early interventions, such as low intensity cognitive behavioural therapy (CBT), practical support and breathing techniques, which help to give young people techniques to stop issues becoming worse
Supporting the school or college's mental health lead to introduce a 'whole-school or college approach' to mental health
Giving timely advice to school and college staff and liaising with external specialist services, to help children and young people to get the right support and stay in education.
Educational mental health practitioners (EMHPs) offer face-to-face or virtual, individual and group sessions with children and young people, at a time which suits them. They also work during the school holidays.
Paul Williams, head of service in the families, children, young people and learning disability services directorate at Leicestershire Partnership NHS Trust, said: "The work of this service is brilliant because it helps give people who are struggling tools that will stick with them for life, at a time when they need them. By going into schools, the practitioners can tailor their approach to what is needed in each area and put in the right package of support to enable children and young people to achieve their educational and personal potential.
"This service also aims to ease pressures on other mental health services so that those who do need more intensive support can get it sooner."
Mental Health top tips for parents and carers
There are things that everyone can do to support children and young people's mental wellbeing. These include:
Ensuring children and young people have a healthy sleep routine, which can have a huge impact on their mood. Make sure they also eat a well-balanced diet and exercise to keep their body healthy to help them feel their best.
Encourage connections with family, friends and the wider community; set aside quality time to spend together and support them to make connections in the community through hobbies, sports or volunteering.
Show an interest in their life and the things that are important to them.
Make time to talk to your child and listen to what they have to say about their day and their feelings. Support them if they are having difficulties. Advice on how to talk to children can be found on the Young Minds website and advice on dealing with difficult behaviours and emotions can be found on the Maudsley Charity website.
Paul added: "There's a lot of pressure on young people; things like exam stress, transitions to new schools and navigating relationships all contribute to this. It can be tough to go through at the time, but it's important young people remember that most challenges and difficult feelings are normal and are a part of growing up.
"However, when a child or young person has been displaying symptoms of emotional issues for a while, professional help may be needed."
Around 1 in 8 children and young people experience behavioural or emotional problems growing up. Look out for:
significant changes in behaviour
ongoing difficulty sleeping
withdrawing from social situations
not wanting to do things they usually like
self-harm or neglecting themselves.
More advice can be found on the NHS Every Mind Matters website.
The theme of this year's Children's Mental Health Week is connection. For more information about Children's Mental Health Week, including free resources for primary age and secondary age children and young people, visit: www.childrensmentalhealthweek.org.uk/