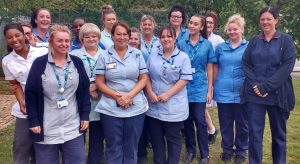 A project which helped ensure Leicester, Leicestershire and Rutland patients get the right care from their community nurses at the right time has won a major national award.
The project involved introducing sophisticated computer software to juggle the needs of 9,000 community patients, the availability of staff, the skills those staff needed to deliver each patient's care, and the locations of all the homes that needed to be visit.
It won the Workforce Innovation category in the Health Service Journal Partnership Awards.
The project used expertise from Leicestershire Partnership NHS Trust (LPT), software developer TPP, consultants Newton Europe, and NHS Leicestershire Health Informatics Service (LHIS).
In November the same project was a finalist in the Nursing Times awards.
Rachel Dewar, head of LPT's Community Health Services, said: "We decided to carry out a comprehensive transformation project, taking a fresh look at every aspect of how we delivered care to people in their own homes to help our nurses to spend more face-to-face time with patients in their working day, to reduce travel and duplication in recording and to support all of our staff to develop their skills to support them to support patients.
"An important aspect of this was how we created a visit list for each of our 300 healthcare assistants and nurses each day.
"So when TPP announced that they were adding functionality to the electronic patient record that we already use to do this task, we jumped at the chance to develop it.
"Our healthcare assistants and nurses worked with our consultants Newton Europe and computer services provider LHIS to trial and develop the new functionality, called Autoplanner. We reported back our findings and experiences to TPP, which helped them refine the module for adoption across the country.
"We then organised a national conference held in Leicester to discuss our experiences. 38 different healthcare providers came to it."
The transformation project has also seen staff develop new skills, a reduction in the amount of paper work staff had to complete, and increased technology to update patients' electronic records in their own homes.
Rachel Dewar added: "The results have been very positive. Face-to-face patient contact time increased from 31 per cent of nurse time to 71 per cent; we have saved around 2.5 hours' planning time each day in each of the 30 teams; and we have saved 12 hours' per day in clinical staff time. We can see how much capacity and how much demand we have each day, and where we have additional capacity  we can allocate time for staff training and supervision; staff vacancies in our core community nursing teams have reduced, and the proportion of staff reporting they can complete their workload in their contracted hours has increased. We are now much more confident we are sending staff with the right skills to the right patient at the right time."
Simon Jones, business manager from Leicestershire Health Informatics Service, said: "LHIS worked closely with Newton Europe, TPP and LPT on the IT solution to enable the transformation project to achieve right staff, right skill, right place, at the right time.
"Autoplanner takes information entered into the system to generate a plan for that day's patient visits. Nursing staff were previously undertaking the planning manually. The benefits delivered in the project have been impressive and we are working with LPT to roll this functionality out to other services."
Matthew Stickland, senior analyst from TPP, said: "Working with LPT, Newton Europe and LHIS on Autoplanner was a fantastic project for TPP. We are delighted to hear about the amazing results in improving nurse contact time with patients and saving planning time for upcoming visits. This is a great example of how technology can assist in transformation – improving patient care, helping frontline staff and reducing costs."
Mandeep Mohan, the programme lead from Newton Europe, said: "The challenges LPT were facing are shared by many other healthcare providers. Their ability and desire to be bold, and initiate a digitally-enabled transformation programme so they could address these challenges, has enabled them to achieve these amazing results.
"They recognised the need to work as a multi-disciplinary team, and with a range of organisations, to ensure the right professionals were involved from the beginning. It was an absolute pleasure working with LPT as part of a wider transformation programme. In addition, being part of the LPT, LHIS and TPP team, and seeing the module not only being rolled out to other areas of LPT, but to other healthcare organisations across the country was fantastic. This is leading to a real and measurable impact on staff and patients far greater than originally planned."
The editor of the Health Service Journal and host of the awards evening, Alastair McLellan, offered his congratulations to the teams on their success. He said: "The entrants this year have been of incredible calibre, and each of the winners at the HSJ Partnership Awards have been chosen based on their outstanding commitment to innovation and collaboration in healthcare. I'd like to offer my congratulations to LPT, LHIS, TPP and Newton Europe on winning the Workforce Innovation at this year's HSJ Partnership Awards."
The software is now being introduced to other LPT services which require visits to patients' homes, including continence, phlebotomy and to the service provided by our 22 volunteer drivers who make 6,000 journeys per year to take patients to and from clinics.