A Leicester psychiatrist has been appointed to a prestigious national judicial role.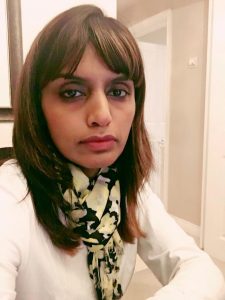 Dr Beena Kumari, a consultant psychiatrist with Leicestershire Partnership NHS Trust (LPT) has been appointed as a Mental Health Tribunal panel member.
She will  sit with a judge and a lay panel member to provide clinical expertise as part of a legal tribunal panel hearing applications for discharge from hospital for mental health hospital patients sectioned under the Mental Health Act
Dr Kumari is the second LPT doctor  to secure such a role with the Mental health Tribunal, Health Education and Social Care Chamber. Her appointment follows a lengthy interview process.
Dr Kumari has a long-standing special interest in using her medical expertise in a judicial role. She said:
"I've been interested in the medical and legal interface since I was a junior doctor and pursued this special interest with placements in forensic psychiatry, assessing patients in prison, writing court reports and specialist risk assessments. During higher specialist training I decided to pursue a Diploma in Mental Health Law and applying for this judicial post was the natural culmination of all of these.
"My extensive experience giving evidence at tribunals is a rewarding and challenging part of my role as consultant psychiatrist and gave me the opportunity to look at matters through the eyes of other professionals. I'm very excited at the opportunities this new role will give me to go beyond my clinical caseloads and help a broader spectrum of detained patients.
"It will allow me to further develop my legal knowledge and skills  as part of a team of professionals from other disciplines and Trusts  and use this in my work at LPT to help patients and improve services, particularly with the additional Covid-related challenges to overcome to ensure the safeguards of the Mental Health Act."
Congratulating Dr Kumari, LPT medical director Dr Avinash Hiremath commented: "I am aware these are tough and rigorous appointments, and full credit to Dr Kumari's experience, expertise and commitment. I am sure the tribunal system will be supported by her presence, and that we in LPT, and particularly service users and colleagues, will get the benefit and wisdom of her new endeavour. "