Over this summer, a number of ex-service personal will take part in a series of unique NHS-supported open water swimming sessions with award winning rescue dogs, to help them with post-traumatic stress disorder (PTSD).
The four-hour sessions will take place at Stanton Lakes in Stoney Stanton, following a successful pilot held in September 2020. The veterans taking part will don wetsuits and take part in a series of relaxing floating and towing experiences in the water with the specially trained Newfoundland dogs, as part of the mental health support they are receiving from Leicestershire Partnership NHS Trust's Armed Forces service.
The emotional support swimming dogs, Storm, Sonar, Walker, Bob and Ralph, excel in the water due to their muscular build, thick double coat, webbed paws and excellent swimming skills. The dog's owner and trainer, Hinckley-based EMAS paramedic, Pete Lewin and his team will also be in the water. Earlier this year, the large pups, Pete and his team were crowned winners of The Kennel Club Hero Dog Award competition at Crufts 2022.
Pete has been offering the emotional support experience with his Newfoundlands for around seven years, but has been working with the breed for over 26 years. He said: "We work with schools, the emergency services, with people with disabilities and we are now doing more of this work with veterans. It is so rewarding and the results are brilliant. The dogs love it too.
"As part of the sessions, the veterans will join me and the dogs in the lake, with buoyancy aides, and we will go through some special holds and tows that will help them to feel emotionally supported, secure, wanted and cared for.
"This sort of therapy isn't about curing the PTSD but gives people some respite for a few hours and allows them to take their mind off any negative thoughts. It works so well because you get the cold-water therapy –  which helps people to focus on the present and their breathing – as well as the enjoyment of working with the dogs who give off pheromones, which helps people to relax and feel positive. Swimming with the dogs will also give them new memories for life."
After the success of the pilot session, Leicestershire Partnership NHS Trust's charity Raising Health secured £4,880 of funding from the Shire Community Grant, managed by Leicestershire County Council, to hold six more courses for those who have left the armed forces and need mental health support.
The Trust's Armed Forces lead, Brendan Daly, who has helped to organise the sessions, said: "We had some amazing feedback from the pilot session so we are so pleased we are able to give more veterans the opportunity to have this fantastic experience."
Mark's story
One of the veterans who attended the first session in the series, on Wednesday 15 June, was ex-RAF firefighter, Mark Eyres.
Mark, 50, who lives in Leicester, has therapy for his complex PTSD. He said: "I was discharged from the RAF in 1997 for health reasons. Since leaving I have had 13 surgeries on my knees and shoulders. A few years ago, I had a breakdown. My PTSD came to the forefront of what I had been struggling with for so long. It may sound hard to believe, but I found that when I was struggling, I could sit one of my pet rabbits on my shoulder and I could speak to them without feeling any shame. I also have a dog. Now, if I have a bad day, I know I have to get up for my pets. It gives me the drive to keep on going.
"I think having that bond with animals is so therapeutic and that is what made this experience so amazing. There is no doubt about it, they were such special dogs.
"I have to admit, when I started the session, I was apprehensive. I am not the most confident in the water and my previous surgeries make it hard for me to swim. But, after that initial part of leaving my troubles on the bank and learning to trust the dog, I soon realised they were so big and strong, they had enough power to take me back to safety.
"The therapy was so different; when I relaxed, I did start to think and reflect on my past: the fires I had been to and people we'd sadly lost, as well as my friends from the military. When I did feel emotional, I was able to cuddle the dogs and it helped us to bond.
"I went through a lot of emotions that day but at the end of it I felt really proud of myself.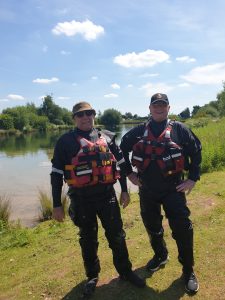 "There was an amazing bond between the veterans; we had that friendship as soon as we were in the water. I was able to be honest and say when I felt I was struggling. Everyone was so supportive and helped me when I needed it. That was very special.
"The whole experience was just fantastic and I truly believe we need to be doing more of this kind of thing. I'm hoping to go down to the next sessions to be on hand to support other veterans."
Mark is passionate about helping other veterans. He volunteers his time to help with Leicestershire Partnership NHS Trust's Buddy2Buddy support service for ex-service personnel, which is also organised by Brendan Daly.
He added: "I really want to help other veterans who are going through something similar to me and who need some support for their emotional wellbeing. We hold virtual drop-in sessions on Mondays, Wednesdays and Fridays. Being able to talk openly about our shared experiences and having that community and comradeship is so valuable.
"I'd just like to thank Brendan for getting me involved and for helping me personally in my recovery."
For more information about the sessions and other support available for veterans that is organised by Leicestershire Partnership Trust, please contact Brendan Daly on brendan.daly2@nhs.net