Leicestershire Partnership NHS Trust (LPT) is celebrating national Volunteers' Week (1-7 June) by saying thank you to our many volunteers who have helped services to go above and beyond to give patients and service users the best experience.
The volunteers hold various roles in locations across Leicester, Leicestershire and Rutland, ranging from peer support groups to bread making sessions for mental health, to volunteer drivers.*
At a special virtual awards ceremony in April, LPT celebrated our volunteers' achievements from 2019 to 2020.
LPT awarded Malcolm Heaven the 'Volunteer of the Year' award, in recognition of his exceptional commitment to both staff and patients through leading the bread making project – Knead to Chat.
'Knead to Chat' uses the art of bread-making to help patients tackle mental health challenges, helping them to develop a social network to support and enrich their lives, and to give them time to reflect on what matters to them.
Malcolm Heaven said: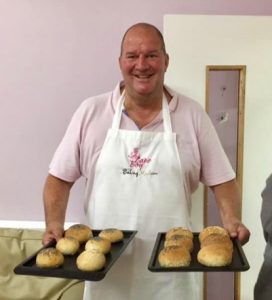 "Through general conversation we encourage the sharing of stories, experiences, and challenges, and of course it's also an opportunity to engage the senses – touch, smell, taste, vision and hearing. For some, baking bread is something new, for others, it's rediscovering an enjoyable activity and using dormant skills. Either way, it's a fun way to learn and build confidence, and home-baked bread is a wonderful gift to share with family, friends, colleagues, neighbours and strangers."
Jean Denyer, End of Life Care Volunteer, was shortlisted for the award. Jean has been volunteering at Rutland Hospital since 2019 and has put together information packs for service users as well as sourced funding to repaint the day room at the hospital to make it more dementia friendly.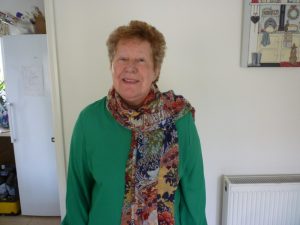 Jean said:
"I decided to volunteer for LPT as I have a passion for helping people at End of Life. After speaking to a colleague, I was offered the opportunity. I love supporting both service users and staff."
The Talking Skills Volunteer Group were also shortlisted for the award. The group (many of whom are previous service-users) work alongside the Adult Speech and Language Therapy Team and run a weekly (pre-pandemic) Talking Skills Group for people with aphasia. The volunteers offer invaluable support to new members having had the shared experience of stroke and aphasia as well as first-hand experience of stroke services and the group.
Ruth Woodham, speech and language therapist, who nominated the Talking Skills Volunteer Group said:
"It has helped the service as it has reduced the waiting list and waiting times. The volunteers continue to go above and beyond, not only do they give up their time but they significantly improve patient experience."
For more about LPT's volunteering service, please email: volunteering@leicspart.nhs.uk

1-7 June is declared national Volunteers' Week by the National Council for Voluntary Organisations.
*Please note that many roles have been put on hold due to Covid-19 restrictions.