The NHS in Leicester, Leicestershire and Rutland, led by Leicestershire Partnership Trust and in partnership with Voluntary Action LeicesterShire (VAL), launched the latest in a series of new crisis cafes in Lutterworth on Friday 1 July.
Crisis Cafes offer local support for people who need immediate help with their mental health. The cafés are drop-in centres for anyone over the age of 18 to come and talk to us about their mental health – no appointment needed. There are 11 due to open in 2022 and a remaining 10 in 2023, bringing the total of cafes across Leicester, Leicestershire and Rutland to 25.
The café will be run by Beacon Care and Advice CIC and Jacky Waring welcomed guests from the local area at the launch event:" We were delighted to be launching the café to people in Lutterworth  and to see so many partners at the event. We know that getting help in a crisis can be difficult and we want to make sure that people can come somewhere that is local to talk to our staff who are trained to listen, advise and give the support that they need."
The café will be open on Wednesday from 5pm – 9pm and Fridays from 9am – 1pm at the Wellbeing Hub at Lutterworth Sports Centre, and will be open everyone with no appointment necessary. It will run its first session after the launch, on Wednesday 6 July.
The cafes are funded by the NHS and are supported by other partners including the local authorities. Councillor Simon Whelband, Harborough District Council's portfolio holder for Health and Wellbeing, added his support: "These cafes are a great investment for the mental health and wellbeing of the residents of Lutterworth and its nearby villages. It can be hard for people to find this support and having it closer to where you live can only be a good thing. The council will be working with Beacon over the coming months to make sure that residents know about this valuable asset."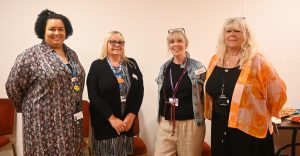 Saskya Falope, the Deputy Head of Nursing in the Urgent Care Pathway at Leicestershire Partnership NHS Trust, is pictured above (l) with colleague Clare Kozlowski and Beacon's Jacky Waring (r) and Sally Flanagan who is one of the recovery workers at the café.
Saskya spoke at the launch and said: "I would like to congratulate Jacky and the team on their successful application and for organising today – it's good to see so many people here in support and to have the chance to network. It shows that these cafes are a real partnership between the NHS and the local voluntary and community sector. We are increasingly working with partners at the local level because we know that these partners better understand the support that their local community needs."
The grants are being administered on behalf of the NHS by Voluntary Action LeicesterShire (VAL) who will continue to work with the Cafes as they set up and develop.
For more information visit VAL's website here  Crisis Café Grant Scheme – Voluntary Action LeicesterShire (valonline.org.uk)
View the full list of cafes here – Crisis Cafes – Leicestershire Partnership NHS Trust (leicspart.nhs.uk)