Our Equality, Diversity and Inclusion lead, Haseeb Ahmad, who is totally blind, will be running the Nottingham Christmas Marathon this weekend, raising money for sports equipment to enhance the care provided for our youngest mental health inpatients as part of LPT's #BeaconAppeal.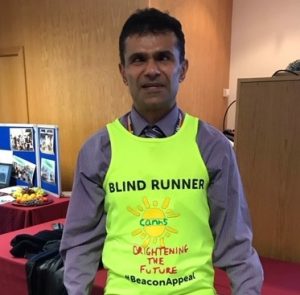 We are currently building a new 15-bed specialist mental health inpatient unit for young people on the Glenfield hospital site in the heart of Leicester, due to open next Autumn. The facility's name, 'The Beacon', is not only a nod to the Leicestershire topography, but was chosen by young people to represent hope for a brighter future. The #BeaconAppeal was launched in September 2019, and aims to raise funds for sensory and sporting equipment that will make a huge difference to the wellbeing of patients, helping to promote their recovery.
Despite losing his sight from the age of ten and being completely blind by age 17, Haseeb is a former Great Britain Paralympian, winning several medals for the triathlon. He became the world's fastest blind iron man in 2016. Haseeb was also recently named as one of the most influential disabled people in the UK, appearing on the Shaw Trust Disability Power 100 list. This short video outlines what it means to him to be part of the Beacon Appeal.
Haseeb explains: "I wanted to use the opportunity of the Nottingham Christmas marathon to raise money for such a good cause. As a young man, I struggled to come to terms with my disability, and found that running and physical activity massively boosted my self-esteem and mental health. I want to do all I can to help our young inpatients in the same way."
Haseeb will also be running the Manchester marathon in April 2020. To find out more about the Beacon Appeal, and to make a donation, visit www.RaisingHealth.org.uk/beaconappeal