Over 100 Leicestershire Partnership NHS Trust (LPT) staff members and volunteers, from various NHS careers and backgrounds, came together at a special ceremony to celebrate their dedication and many years of service.
This year the Trust is celebrating 385 staff members and 95 volunteers who have dedicated 11,600 years' worth of service to the NHS, achieved between 2020 – 2022, with one person with 47 years of service alone.
The ceremony, which took place on Friday 14 July at the Holiday Inn in Wigston, celebrated staff who have worked for the NHS for 25, 30 or 40 years. Volunteers were also recognised for their 5, 10 and 20 years of service to LPT. Those who had achieved or exceeded a long service milestone during the Covid-19 pandemic were also invited to attend the celebration, which included afternoon tea and a presentation, with gifts kindly donated by event sponsor, Dunelm.
LPT chief executive, Angela Hillery, said: "I'd like to thank all those who came to the event, and those who have a milestone number of years of NHS service but who were unable to be there on the day. Our colleagues and volunteers are what keeps the NHS running. Each person recognised for their contribution will have made a direct impact on hundreds, if not thousands, of lives, whether that be as part of a clinical or patient care role, a support or enabling role or as a volunteer.
"Being there for those when they need it most, when they are at their most vulnerable, and helping to improve our service delivery is what these colleagues have done for years. Their dedication, resilience and compassion is outstanding. We are so thankful for their commitment and are so proud of what they have achieved. The NHS, the future generations of our workforce and the local community are so lucky to have been supported by these wonderful individuals."
Laura York, community charity manager from event sponsor, Dunelm, which paid for the venue, afternoon tea and gifts, said: "Dunelm is proud to sponsor Leicestershire Partnership NHS Trust's Long Service Awards this year and want to congratulate all those celebrating. At Dunelm we want to ensure that communities in which we trade are at the heart of everything we do; our communities and the people in them make us who we are. Dunelm was founded in Leicester on Leicester Market and our first store opened in Leicester city centre and we continue to support local charities across Leicestershire."
The Long Service Awards are just one of the ways LPT recognises the care and commitment shown by its staff and volunteers. The Trust also runs monthly Valued Star Awards, celebrating those who have gone above and beyond in bringing to life our core values of trust, integrity, compassion and respect. Nominations can be made by colleagues or service users at www.leicspart.nhs.uk/valuedstars . In addition, the Trust's nurses can be nominated for a coveted and internationally recognised DAISY Award for nurses (more details on how to nominate can be found on www.leicspart.nhs.uk/daisy ) as well as the Trust's annual Celebrating Excellence Awards, which  acknowledge a huge range of achievements across LPT's 5,600-strong workforce. This year, the Celebrating Excellence Awards will be held in September.
For volunteering opportunities please visit www.leicspart.nhs.uk/volunteering
Staff profiles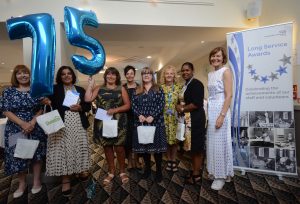 Some of the colleagues attending the event gave their views on what it takes to dedicate the majority of your career to working for the NHS.
Andrew Gardiner, a senior occupational therapy practitioner who has worked for the for 47 years, said: "My advice to anyone working in the NHS, would be to take advantage of learning as much as you can, and always be looking for ways to improve the service."
Rashmika Shah, specialist community public health nurse (health visitor) is celebrating 42 years' service in the NHS this year. She said: "A career in the NHS offers a variety of opportunities. Not only am I a qualified nurse, midwife, and health visitor but I have also been lucky enough to complete a MSc in social research. And to think – there was a time when I felt I wasn't even clever enough to be a nurse."
Gaynor Southin, healthcare support worker will celebrate 41 years' service in the NHS later this year. She said: "Patients always remember those staff that go that extra mile. I often get patients shout my name and come running up to me in the street – I feel a great sense of pride."
District nurse, Jenny Pinsent has 42 years service, working for the NHS, even returning to support LPT after retiring. She said: "My favourite moments are where I have felt I've made a difference to a patient and their families. Being able to retire and come back part time and still feel I have something to offer and to feel valued by my team is amazing."