Leicestershire Partnership NHS Trust (LPT) is delighted to launch this year's Move it Boom physical activity competition for primary school kids across Leicester, Leicestershire and Rutland.
The award winning competition offers a top prize of bespoke playground equipment, generously donated by local play specialists Red Monkey Play. A launch assembly featuring the Red Monkey mascot took place at Sherard Primary School in Melton Mowbray on Monday 7 October.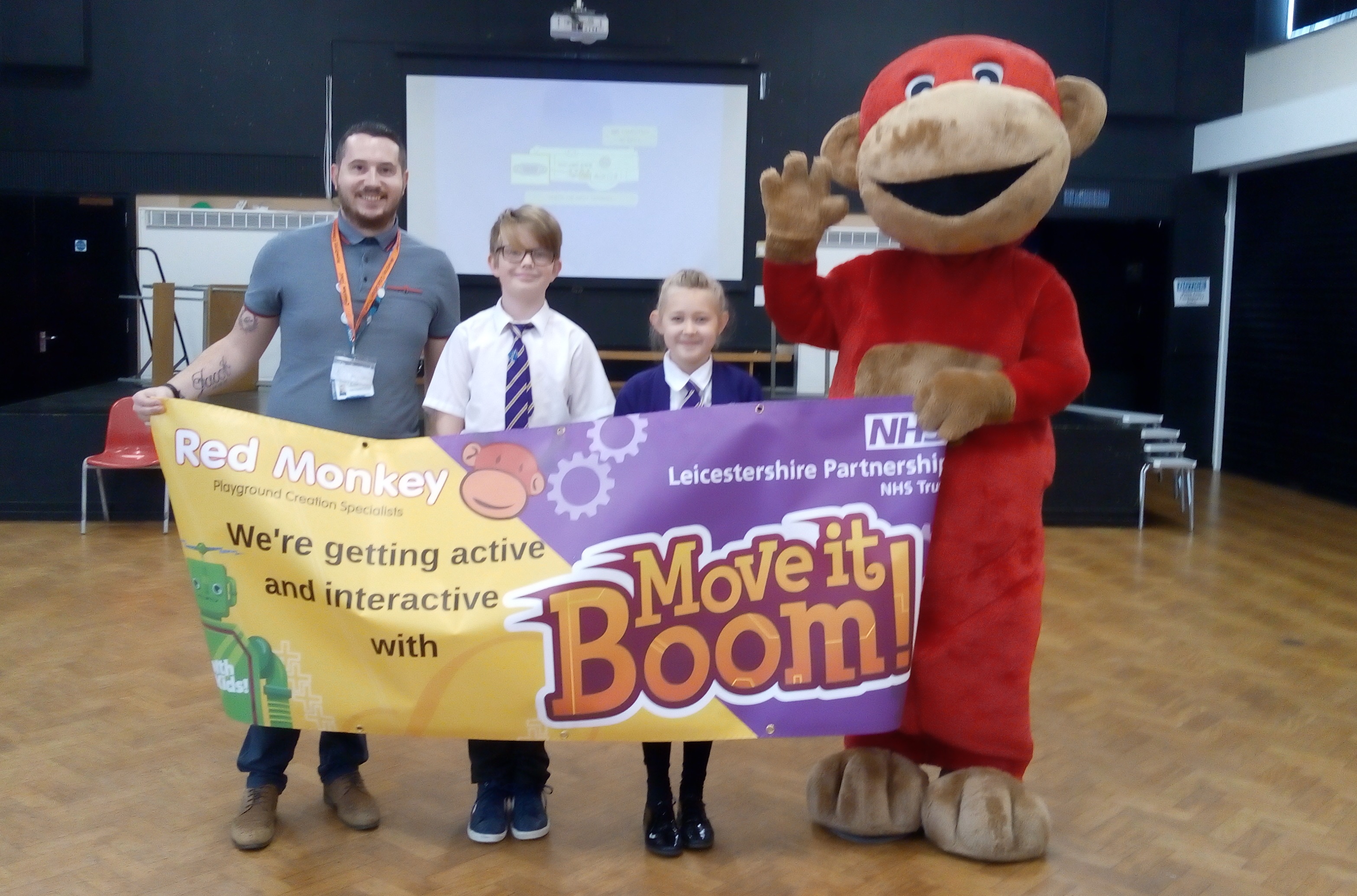 The Red Monkey Mascot celebrates the launch with pupils at Sherard Primary School. LPT's digital engagement lead for Healthy Together 0-19 services, Oliver Kyle, is also pictured.
This is the fourth time that the Move it Boom competition has run, and it looks set to be bigger and better than ever! Children access the Move it Boom website (leicester.moveitboom.co.uk) and log the physical activities they complete to win points for their school. There are different activity categories to choose from, including 'dancing', 'swimming', 'on wheels', 'ball games' and  'invent a game'. The site also offers lots of creative ideas for fun ways to get fit and healthy, as well as a leaderboard of the top schools.
As children log their activities, they build and upgrade a virtual robot avatar. The more physically active they are, the more advanced their robot becomes, and the more points that are added to their school's total. In addition to the playground equipment, a range of other fantastic prizes is on offer, including stadium tours, experience days and in-school coaching sessions, donated by LPT's local sports partners. These include Leicester Riders Basketball Club, ME Sports, Fox Soccer Academy, Leicester City Football Club, Leicestershire County Cricket Club and LeicesterShire and Rutland Sport.
Sarah Tebbett, Quality Lead for School Nursing at LPT said: "Move it Boom is a great way for schools to promote healthy lifestyles with children and help them understand the importance of being active. We're hoping that as many primary school pupils as possible will take part in this year's campaign, and we're looking forward to an exciting competition!"
Move it Boom runs until the end of December. The winning schools will be announced in early January.
Pupils at Millfield LEAD Academy, winners of the 2018 Move it Boom competition, enjoying their playground equipment: