Leicestershire Partnership NHS Trust (LPT) is delighted that its state-of-the-art, purpose-built £8m mental health facility for young people, 'The Beacon', has this week welcomed its first inpatients.
While the Covid-19 pandemic has led to the official opening ceremony being postponed until the new year, this virtual tour has been created to reveal what the facility offers:
The Beacon, named to represent hope for a brighter future, was co-designed by staff from LPT's specialist child and adolescent mental health service (CAMHS) and young people. It offers a safe, welcoming and positive environment for individuals who need mental health inpatient care, supporting them, and their families, on the journey to recovery. The facility has 15 beds, an increase on the current 10 bed provision, and in future will be able to offer care for young people with eating disorders who require an inpatient stay. Young people have previously had to go out of area for this specialist care.
The Beacon is situated on the Glenfield Hospital Site in the heart of Leicester. As such, it is easily accessible by road and public transport, and is close to other mental health facilities such as the Bradgate Mental Health Unit, and Langley Ward at the Bennion Centre which provides inpatient and day care for adults with eating disorders. The CAMHS crisis and home treatment team is also based nearby at the Valentine Centre on Anstey Lane. This co-location of mental health services is in line with the Royal College of Psychiatry Quality Network for Inpatient CAMHS (QNIC) standards, the NHS England service specification for CAMHS and NICE guidance. It brings a number of benefits, including the facilitation of staff training and clinical supervision, as well as support in an emergency. Where appropriate, it will also help to ensure a smooth transition to adult services if required.
Helen Thompson, director of families, young people and children's services at LPT said: "I'm delighted that we have been able to welcome our first inpatients to The Beacon. From the outset, our vision has been to ensure the voice of the young person is at the heart of the care provided here, which is why involving them in the building's look and feel was so important. The Beacon's location in Leicester, right in the centre of the East Midlands, and the fact that we are now able to offer 15 beds rather than 10, means that more young people will be able to be able to be treated closer to home. The building is surrounded by greenery and flooded with light. It's a wonderful environment that will really support recovery."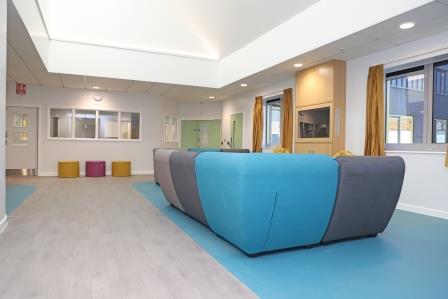 The Beacon has individual, ensuite bedrooms, rather than dormitory style accommodation. It has facilities for Leicester Hospital School, as well as sensory rooms, quiet lounge areas, clinic rooms and an outside garden and sports area. Thanks to an incredibly generous donation from Leicester City Football Club, LPT has been able to build an astro-turfed sports pitch which will be used for a range of activities from five-a-side games to yoga and meditation.
Susan Whelan, chief executive of Leicester City Football Club said: "As a club, we really care about helping our local community, who do so much to support us too. We are proud to have entered into a new partnership with LPT to help promote positive mental health and emotional wellbeing, which is such an issue for many young people. I'm absolutely delighted that we have been able to fund the outside sporting area at the Beacon, and we very much hope that it will help promote recovery. On behalf of the Club, I'd like to wish the CAMHS staff and young inpatients all the best as they move into their new facility."
Construction of the Beacon was managed by Interserve Construction Ltd. Divisional Director, Simon Butler, said: "The Beacon has been a fantastic project for us to be a part of, and we are very proud to have worked with LPT to deliver an environment that will enable provision of great mental health care for young people."