Reduced services due to Covid-19
Together with the rest of the NHS, Leicestershire Partnership NHS Trust is preparing for the unprecedented demands of the coronavirus (Covid-19) outbreak. During this time, your care may change a little, for example it may be delivered in a different way, or may have to be postponed for a while. We will try to explain why we have to take these steps below.
As a result of the outbreak, we are prioritising the care we normally provide, and some services will be restricted or closed. We will be writing to patients who are affected. If you were expecting to attend one of our clinics in the next few days and have not received a letter, please phone the number provided on your original appointment letter to confirm whether you should still attend.
To see whether one of our services is affected please click here: https://www.leicspart.nhs.uk/service-update/
Service description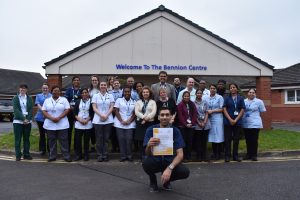 Our mental health services for older people inpatient service operates across two sites, The Evington Centre (Leicester General Hospital site)and the Bennion Centre (Glenfield Hospital site).
The Evington Centre has two single sex wards and caters for patients with organic mental health problems (decreased mental function due to a medical or physical condition).
The Bennion Centre has a female only ward and a mixed sex ward and caters for patients with a functional illness (decreased mental function which is not due to a medical or physical condition).
We work closely with community intensive teams, community mental health teams and outreach services for older people with functional and organic mental health problems. The inpatient multidisciplinary team consists of doctors, nurses, psychologists, physiotherapists, occupational therapists and speech and language therapists. A full assessment of mental and physical health needs will form the basis of a care plan in order to support discharge.
Referral criteria
People of all ages with dementia and adults over the age of 65 with a functional or organic illness where their risk of harm to self or others cannot be safely managed in the community.
Who to contact if you need an interpreter or information about disabled access
Inform a member of staff if an interpreter is required.