Service description
The Medical Psychology Department is a service for adults who are having difficulties with managing the impact of medical/physical health problems on their psychological well-being, or are finding that their mental health is having a direct impact on their physical health.
We are a growing team of Clinical Psychologists who work with a wide range of physical health difficulties. Some of us are funded to work across a range of medical specialities whilst others are funded for specific services such as renal, cystic fibrosis, HIV, pain management, adult congenital heart disease, haemoglobinopathies. We are a teaching department and regularly offer placements to trainee clinical psychologists on the local doctoral programme. We are actively involved in research and service evaluation which helps us to improve our service.
We offer specialist psychological assessment and interventions to individuals to help manage their emotional stress of living with an acute or long term physical health condition. Some of the examples are listed below (please note: this is not an exhaustive list):
Low mood/Stress or Anxiety associated with illness and treatment
Anxiety around hospital visits or procedures
Trauma reaction following hospital procedure
Coping with uncertainty about future health
Impact of health problem on family and relationships
Keeping control and independence
Coping with diagnosis and adjusting to everyday life with a long-term medical condition
Support with making decisions about treatment
Zero tolerance to abuse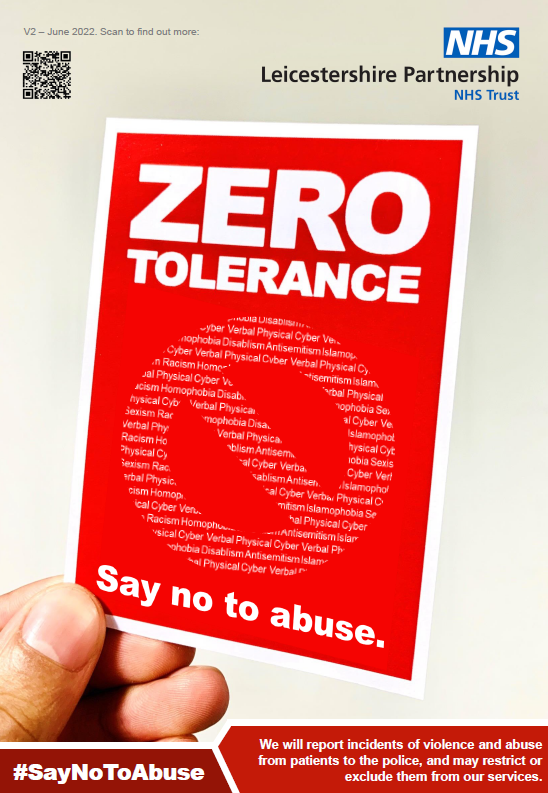 The Trust are pleased to launch a zero-tolerance campaign that makes clear our commitment that we do not tolerate any form of abuse against our staff from anyone who comes in to contact with our services.
This includes hate crime, which is a specific type of abuse:
Hate crime is subjecting people to harassment, victimisation, intimidation or abuse because of their ethnicity, faith, religion, disability or because they are lesbian, gay, bisexual or transgender.
Not all abuse will constitute hate crime, however we have a zero-tolerance approach to ALL forms of abuse against our staff.
We will report incidents of violence and abuse from patients to the police, and may restrict or exclude them from our services.
Referral criteria
The service can offer assessment and treatment to adult patients from all medical specialities. Referrals can only be accepted from University Hospitals of Leicester (UHL) Consultants (or a member of their team). Patient self-referrals and GP referrals are not accepted.
Assessment
Following referral patients will receive a letter asking them to telephone the service to arrange an assessment appointment. Routine referrals are generally seen for assessment by 10 -12 weeks. Please note that some medical specialities have a designated psychologist who will contact patients directly to book an assessment appointment.
The assessment appointment will be with a clinical psychologist. We also offer training placements and therefore patients may be offered an appointment with a trainee psychologist whose work is supervised by a qualified member of staff. The assessment appointment usually lasts between one and one and half hours. This appointment may take place in-person or remotely (e.g. video consultation or telephone). Patients are usually seen individually in the first instance. In some cases it may be helpful for a relative/carer to attend for part of the session if the patient requests this. Following this assessment,   a decision will be made with the patient regarding the next steps. This may include:
Waiting list for individual therapy
Waiting list for group therapy
Referral to another service
No further psychological intervention at this point
We usually see patients for between 4-18 sessions.
Who to contact if you need an interpreter or information about disabled access
Please let us know if you require an interpreter.