Service description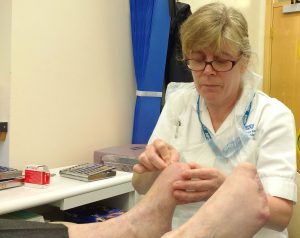 Treatments range from corn, callous and nail treatment to the extremely specialised 'high risk' cases such as diabetic foot ulcer care, nail surgery, complex biomechanical assessment and treatment, through to provision of insoles and orthotics.
Treatment plans are individual to the user, aiming to resolve the problem or at least reach a level of maintenance and comfort. They also include personalised education, strongly promoting self-care.
We deliver the service from approximately 28 sites across Leicester, Leicestershire and Rutland, strategically placed to provide care where it is most needed, bringing care closer to home. These sites include:
community hospitals
health centres
community health and social care centres
GP practices
nursing and residential homes
within a patient's own home (for those who are completely bedbound or housebound)
acute hospitals for inpatient care and within the diabetic foot clinic.
Self-care for your feet
We encourage members of the public to take steps to prevent foot problems. There are also simple things you can do if you develop minor problems. For details, see this advice note.
Referral criteria
Anyone who has, or perceives themselves to have a foot complaint. Home visits are only available for the completely bed or housebound.
You can self-refer online:
If you have any issues using the online form please download and fill in this form (PodiatryDowloadForm2019) and return it to LLR.Podiatry@nhs.net
Podiatry online form
Use this form to apply for a podiatry assessment. Please note – the Podiatry Service does NOT provide routine nail cutting unless you are classed as medically high risk, for example you are a high risk diabetic or have severe circulation problems.
Alternatively download and fill in this form (PodiatryDowloadForm2019) and return it to LLR.Podiatry@nhs.net
Or by post to:
Podiatry Services
South Wigston Health Centre
80 Blaby Road
South Wigston
Leicestershire
LE18 4SE
Who to contact if you need an interpreter or information about disabled access
Request in advance on application form or via call centre tel: 0116 225 5118 or email: LLR.Podiatry@nhs.net