Service description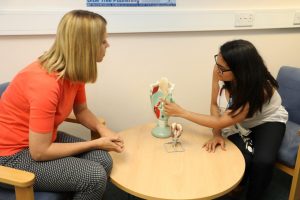 The service provides a specialist, effective and efficient comprehensive service which includes assessment, diagnosis, intervention, management and advice for adults with primarily acquired disorders of speech/language/communication and/or swallowing.
Referral criteria
We help with conditions such as:
Dysarthria (speech disorder) 
Aphasia (language disorder) 
Dysphonia/aphonia ( voice disorder)
Dysfluency (fluency disorder/stammer) 
Dysphagia (swallowing difficulties).
We can also offer management for chronic cough and vocal cord dysfunction (these referrals are only accepted from Respiratory Medicine or ENT).
There are many reasons someone may develop a difficulty with communication and/or swallowing, these can include:
– Stroke
– Brain injury / head injury
– Brain tumour
– Progressive neurological disorders such as Parkinson's Disease, Progressive Supranuclear Palsy, Multi System Atrophy, Multiple Sclerosis, Motor Neurone Disease resulting in motor speech disorders and/or dysphagia
– Voice disorders (these require an ENT assessment prior to SLT involvement to establish the cause)
– Respiratory difficulties
– Head and neck cancer
– Acquired brain injury
– Disorders of fluency (eg. stammer/stutter)
– Dementia
– Palliative care needs particularly for degenerative disorders and cancers.
Who to contact if you need an interpreter or information about disabled access
Tel: 0116 295 4692