Service description
The support received from the Psychosis Intervention & Early Recovery (PIER) Team can help people recover from a psychotic episode. It can also help reduce the likelihood of experiencing further psychotic episodes in the future. The service is made up of a team of professionals (including nurses, psychologists, psychiatrists, occupational therapists and support workers ) who have lots of experience in working with people with psychosis.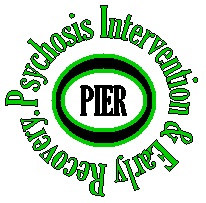 UPDATE – COVID-19 and PIER Team Referrals – Advice Line
Due to the current COVID-19 outbreak the PIER (Psychosis Intervention & Early Recovery) Team are having to put into place the following measures to ensure that we ensure people with a serious mental illness are prioritised for assessment and treatment.
We will be asking that from Monday 23 March 2020 that GPs, Community Mental Health Teams, the Crisis and Home Treatment Teams and Inpatient Wards telephone us on 0116 294 3167 to discuss any referrals to allow us to prioritise or signpost to a more appropriate service.
---
Referral criteria
The service offers help to people aged 14 – 64 years who are experiencing first symptoms of psychosis, as well as providing help to their families.
---
Who to contact if you need an interpreter or information about disabled access
Tel: 0116 294 3167
---