Service description
The LPT Employment Support Service is delivered by Leicestershire Partnership NHS Trust; to adult patients open to community mental health teams,  psychosis interventi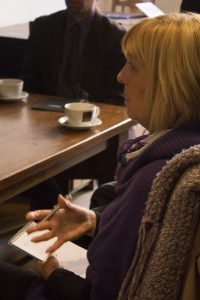 on and early recovery (PIER) and assertive outreach.
Its aim is to provide information, advice, guidance and support to find paid work, as part of an individualised recovery plan. We provide assistance to find the right job with the right support.
Our employment specialists are uniquely placed to provide the help to find and maintain paid work using the Individual Placement and Support (IPS) model, which originated in the USA and has been adopted in this country by NHS England as it is proven to succeed with people with a lived experience of mental ill health.
The Employment Support Service team have more than nine years' experience as the provision was delivered by Aspiro, on behalf of LPT, for eight of those years and helped 1,000 patients achieve their work or learning goals. The staff group bring a wealth of expertise and skill and the service is expanding to provide a service across our community mental health service.
We operate employment clinics where you can meet our employment specialists on a one-to-one basis using an appointments system at our nine locations across the city, county and Rutland
We run employment clinics in nine locations across Leicester, Leicestershire and Rutland (LLR) and this will change to more locations within community-based adult mental health teams.
The service is available Monday to Friday, 9am – 5pm every week, except for bank holidays. The Employment Support Service team can be contacted on 0116 225 5700 during opening times and you can leave a message outside office hours or if the lines are busy.
If you have any access needs due to disability, sensory impairment, or because English is not your first language then please call us free on 0116 225 5700 or email us LPT.Employment.Support@nhs.net
Read this ESS client story
Referral criteria
People aged 17+ currently open to Leicestershire Partnership NHS Trust's adult community mental health teams .PIER or Assertive Outreach, who would like to work and need support to overcome their barriers to getting into paid employment, as well as wanting practical help to get a job. This is an independent service – using it will not affect your DWP benefits.
You can refer yourself
NHS professional can refer you
Or another professional
You can self-refer using a referral form or a professional can refer you here.
Alternatively you can use the phone and call 0116 225 5700 to refer or ask questions.
Referrals can be received from
Individuals, LPT services
Who to contact if you need an interpreter or information about disabled access
If you need an interpreter, or to check for disabled access, please call, or email LPT.Employment.Support@nhs.net