Reduced services due to Covid-19
Together with the rest of the NHS, Leicestershire Partnership NHS Trust is preparing for the unprecedented demands of the coronavirus (Covid-19) outbreak. During this time, your care may change a little, for example it may be delivered in a different way, or may have to be postponed for a while. We will try to explain why we have to take these steps below.
As a result of the outbreak, we are prioritising the care we normally provide, and some services will be restricted or closed. We will be writing to patients who are affected. If you were expecting to attend one of our clinics in the next few days and have not received a letter, please phone the number provided on your original appointment letter to confirm whether you should still attend.
To see whether one of our services is affected please click here: https://www.leicspart.nhs.uk/service-update/
Service description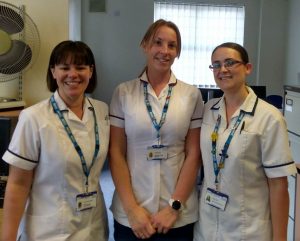 Each year 30% of people aged 65 and over will fall one or more times. Moreover, 50% of those in the 80 years and over age group, who live in the community, fall each year. A fall can lead to pain, distress, loss of confidence and have a major impact on the person's independence. The Falls Prevention Service aims to help patients maintain and improve their independence. Our specialist team works in partnership with local authority and voluntary organisations to provide targeted interventions to reduce the risk of further falls occuring.
Referral criteria
Patient has a history of a fall(s), high risk/potential to fall or has a fear of falling.
Who to contact if you need an interpreter or information about disabled access
If you need an interpreter at your appointment please call the Falls Service on 01530 468 510.