Service description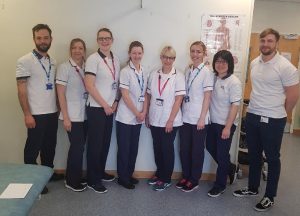 The Musculoskeletal (MSK) Physiotherapy service aims to improve movement and restore function. Our staff are specialists in examination, treatment and management for people with musculoskeletal problems. All our physiotherapists are registered with the Health and Care Professions Council.
Physiotherapy helps to restore your ability to move and function as normal. This is achieved by helping you understand your condition and teaching you correct ways of moving, and/or exercises. Your physiotherapist will explain how you can manage your pain, help your own recovery and prevent the problem from coming back. Research shows that physical activity and exercise are important to help recovery.
Your physiotherapist may provide you with an exercise programme based on your health, ability and fitness. You will be encouraged to work on your physiotherapy programme at home, to get the most out of your treatment. Physiotherapy is about teaching you what YOU can do to help yourself to improve and stay healthy.  You may have consultations delivered by Telephone or Video, you can also request these if it is more convenient than a face to face appointment.
Where do you provide treatment?
We provide treatment at Community Hospitals and Health Centres across Leicestershire and Rutland.  You must remain at the same site throughout your course of treatment. You will not be able to change sites once your treatment has started. 
You may not be able to receive treatment at your first choice of site depending on our current appointment availability.
Referral criteria
MSK stands for 'musculoskeletal'.  This means we will help you with problems related to your bones and soft tissues (i.e. ligaments/muscles) which affect your ability to move and function as usual.  These problems may have happened due to injury, operation or age.
Who to contact if you need an interpreter or information about disabled access
Disabled Access
For information regarding disabled access at your appointment site please contact us on 0300 300 0046 or ask us when we arrange your first appointment.
Interpreters
Please let us know you require an interpreter when we book your first appointment or contact us on 0300 300 0046.  Please give us a much notice as possible as it can be difficult to arrange for an interpreter at short notice.