The reality for some people is that they suffer in silence, unsure of what support is out there, and lacking someone to talk to who understands.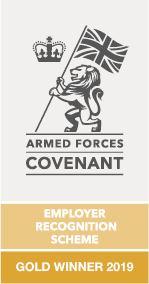 LPT is committed to ensuring local veterans, reservists and military families living in Leicester, Leicestershire and Rutland are able to access support when they need it. We have an active network of armed forces champions across the Trust, many of whom have served in the armed forces or have loved ones continuing to serve, who are giving their time to raise awareness and develop ways that we can support local people.
In June 2017 LPT signed up to the Armed Forces Covenant and across all our services, we are working hard to ensure veterans, reservists, military families and staff are supported by our services. In Nov 2019 LPT was awarded the Armed Forces Covenant Gold award and in June 2019 LPT became the first Community and Mental Health Trust in England to become a member of the VCHA (and its Veteran Aware Accreditiation. We were successfully re-accreditated in 2022. We hold the gold award in the Ministry of Defence's Employer Recognition Scheme. We are also a member of the Step into Health programme, which encourages serving personnel to transition to careers in the NHS.
LPT is committed to supporting the mental health and wellbeing of Armed Forces veterans, as well as their families, and helping to reduce the stigma around mental illness associated with military experience.
If you want more information about the help and support available through LPT you can contact us at lpt.armedforces@nhs.net
What support is available?
Op Community
OpCommunity is a telephone line for the armed forces community (including veterans, reservists, serving personnel, families and the wider armed forces community) to offer support and guidance around navigating NHS services and advice regarding other services that can support with issues.
Call the support line on: 0116 225 6858. 
The line is open Monday to Friday, 9am-5pm, excluding public holidays.
Op Courage
Op COURAGE is an NHS mental health specialist service designed to help serving personnel due to leave the military, reservists, armed forces veterans and their families. To be referred for support ask your GP or healthcare professional or self-refer by ringing 0300 323 0137.
Op Nova
Op NOVA is a service that provides support for all veterans who are in contact with the criminal justice system. Contact 0800 9177 299 or email opnova@forcesemployment.org.uk .
Veterans Trauma Network
The NHS Service provides specialist care and treatment to veterans who have physical health problems as a result of their time in the armed forces. Speak to your GP about getting a referral for support.
Veterans' Gateway
The Veterans' Gateway is run by a number of organisations, including the Royal British Legion, to help members of the armed forces community to find the support they need. Contact 0808 802 1212 or Text 81212.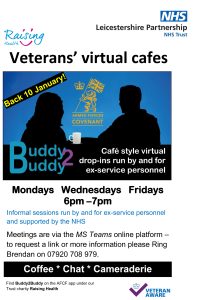 Buddy to Buddy is back!
Our Buddy2Buddy cafe style virtual cafes aim to connect, support and empower veterans and their families.
The informal sessions, provide a safe space to relax and share experiences to support your emotional wellbeing.
Run by our armed forces service and funded through LPT's Raising Health charity, the Buddy2Buddy project recognises the additional risk of social isolation through the pandemic and the disproportionate impact this can have on the mental wellbeing of Armed Forces veterans. Download the Buddy2Buddy flyer
The sessions run on Mondays and Wednesdays between 6pm – 7pm via MS Teams. Email: LPTArmedForces.nhs.net  for further details
Fundraising
Our Raising Health charity appeal aims to assist with the therapeutic recovery of former soldiers, sailors and airmen in Leicester, Leicestershire and Rutland. For example, we work with an organisation that provides open water swimming with emotional support dogs.
Find out more about the appeal: https://www.raisinghealth.org.uk/appeals/veterans-appeal 
Documents and resources