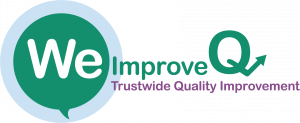 We began our quality improvement (QI) journey in 2018 and have continued to grow from there!
We want to continuously improve the care that we provide and to make everyone's experience of our services the best that it can be. To do this we work together with our service users, carers, and staff to:
embed our QI approach trustwide by building our capability, capacity and knowledge
improve the care that we provide by using a systematic qi approach, and the best QI tool for the job
ensure that everyone's experience of our services is the best that it can be
focus on what matters to service users and carers, encouraging involvement in all our QI projects
develop care based on quality standards, research and evidence
We have developed a quality improvement approach consisting of six key principles to help equip us with the skills and resources to consistently drive improvements. Watch this short film to see what it's all about:
Our aim is to build on our foundations, and Step up to Great so that we are continuously improving what we do for the people that use our services.
You have told us that you want to learn about how to take forward your own local quality improvement ideas and projects, and to feel equipped with the skills, knowledge and resources to do so. We want everyone to feel that they are a leader at LPT. Everyone has the power to make a difference and take responsibility for continuous improvement.
We are already doing some fantastic quality improvement work across the Trust but what we have lacked is a co-ordinated approach to doing it or to sharing the learning from it. We have developed WeImproveQ to empower staff, based on their feedback and from good practice elsewhere.
We are committed to embedding continuous quality improvement, learning and action in the quality and safety of our services and to showing how this is making a difference for our Step up to Great strategy. We look forward to everyone getting involved and bringing their ideas for improvement to life!