The LPT NHS Youth Advisory Board (YAB) is open to all 13-21 year olds who live in Leicester, Leicestershire and Rutland (LLR) the purpose of the board is to support improving children and Young People's health care services through members lived experience, participation and voices through weekly meetings held virtually.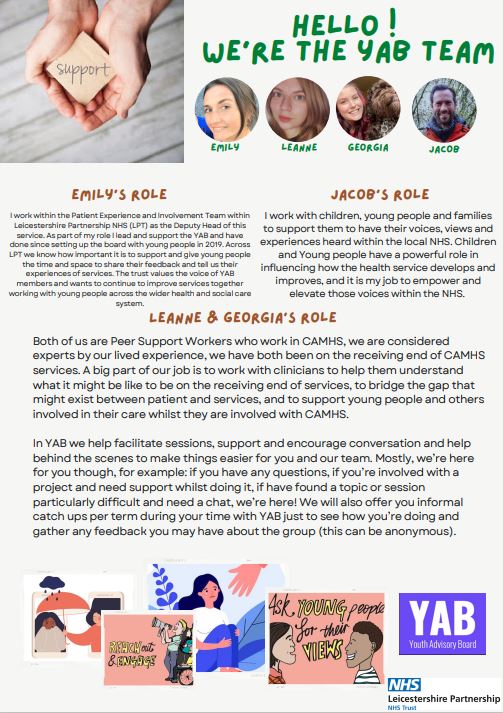 Any young person between the ages of 13-21 years old can self refer to join the YAB by contacting lpt.youthadvisoryboard@nhs.net
The board is supported by staff across LPT and CAMHS Peer support workers.
What have and can the YAB get involved with?
Influence new services for Children & Young People
Advice around new policies – e.g. LGBTQ+, mental health & children and young people related.
Helped design a new anxiety group
Booklets, leaflets and posters
How to make new workshops accessible
Have opportunities to join Interview panels
How can the YAB support you?
Be part of a safe online community
Makes your CV stand out
Build relationships & networks
Learn new skills and gain confidence
Occasional in person meet-ups
Vouchers & rewards for project work
YP's Quote;
"I have been a long-standing member of the board for almost 3 years. Over this time I have met wonderful, supportive people who are caring and considerate and put your best interests first. They have provided me with opportunities to interview job applicants of all different Bands and be a part of projects that will bring a positive difference such as the ND Project and Sexual Health Assessment Project"
-Dylann