Service description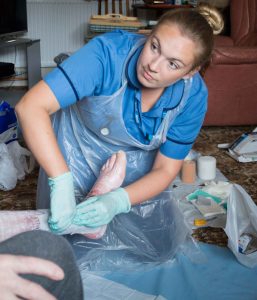 Our integrated teams of community nurses and community therapists look after people who need clinical care in the community. We provide support for people until they are clinically well enough to be discharged based on a personalised assessment of their needs. We aim to help people to remain healthy and independent for as long as possible, or as quickly as possible.
The care and treatment we provide
The care and treatment we provide can be planned, and/or specialist and delivered in the most appropriate place, including:
people's own homes (for those who are housebound)
a clinic setting
a community hospital
a GP surgery.
We will negotiate and agree a plan of care with you which may include teaching patients, carers and family members to become self-caring where appropriate. Treatment options and discharge planning will be discussed with you.
The people in the community nursing and therapy team
We have integrated teams of nurses and therapists providing core community nursing, Home First, and community therapy. You may be seen by more than one of these at the same time.
The teams consists of:
registered nurses
physiotherapists
occupational therapists
clinical apprentices
healthcare assistants
phlebotomists (people who take blood samples)
assistant practitioners
• technical instructors (who deliver both physiotherapy and occupational therapy)
nursing associates and trainee nursing associates
students.
We work closely with:
GPs
social care
community hospitals
acute hospitals
specialist nurses
palliative care nurses
hospices.
Conditions
We care for people with the following conditions:
Conditions relating to older age
Arthritis
Stroke
Falls
Palliative care
Respiratory conditions
Heart failure
Fractures
Wound management
Leg ulcers
Catheter care
Bowel care
Intravenous therapy and the care of lines such as Hickman lines
Injections
Insulin administration and diabetes monitoring for patients who are unable to do this themselves
The provision of equipment
Education – to help patients and carers to care for themselves
Palliative and end-of-life care.
Specialist nursing services include:
Heart failure specialist nurses
Respiratory team
Pulmonary rehabilitation teams
Continence care
Palliative and end-of-life care
Tissue viability.
There are specialist community therapy services that work with patients who have a diagnosis of stroke or neurological condition and a specialist Falls Prevention Service .
Referral criteria
Adults who are registered with a GP in Leicester, Leicestershire or Rutland.
Who to contact if you need an interpreter or information about disabled access
If you need an interpreter please call 0300 300 7777.