Reduced services due to Covid-19
Together with the rest of the NHS, Leicestershire Partnership NHS Trust is preparing for the unprecedented demands of the coronavirus (Covid-19) outbreak. During this time, your care may change a little, for example it may be delivered in a different way, or may have to be postponed for a while. We will try to explain why we have to take these steps below.
As a result of the outbreak, we are prioritising the care we normally provide, and some services will be restricted or closed. We will be writing to patients who are affected. If you were expecting to attend one of our clinics in the next few days and have not received a letter, please phone the number provided on your original appointment letter to confirm whether you should still attend.
To see whether one of our services is affected please click here: https://www.leicspart.nhs.uk/service-update/
Service description
We see housebound patients in their homes, and provide specialist clinics in our community hospitals and health centres. We also work alongside GPs in providing expert knowledge, support and advice in the management and treatment of heart failure. The aim of the service is to improve the care delivered to patients, reduce avoidable admissions to hospital, minimise length of stay, support self management and offer support and clinical advice to healthcare professionals. The service works closely with the heart failure team within University Hospitals of Leicester.
Referral criteria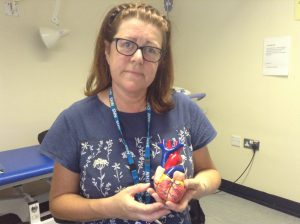 The community heart failure service cares for people with heart failure. People with heart failure are often breathless, particularly on exertion, experience frequent swelling in their ankles and legs and often feel tired and fatigues a lot of the time.
The community heart failure team is a team of specialist nurses. The service runs community clinics in GP surgeries and community hospitals and also do home visits for patients who are unable to leave their homes.
The aim of the service is to optimise people's heart failure care to ensure they are on the right medication and to support people with self-management of their heart failure. The service also provides lifestyle advice related to heart failure such as stopping smoking, dietary and fluid intake advice and ensuring people are physically active and referred to heart rehabilitation.
When you are first seen by the heart failure service you will get a comprehensive holistic assessment by a heart failure specialist nurse. The nurse will then work with you to decide upon the best treatment and management plan for you. The team provide support to newly diagnosed heart failure patients through to those with end stage illness.
The community heart failure team works closely with the heart failure service at UHL and also local GP surgeries.
Who to contact if you need an interpreter or information about disabled access
Call our administration team on 0300 300 7777.