Musculoskeletal (MSK) Therapy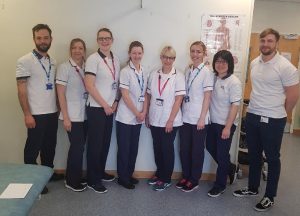 Our MSK Physiotherapy Service provides outpatient clinics in community hospitals, GP surgeries and health centres across Leicester, Leicestershire and Rutland and aims to help those who are affected by a musculoskeletal disorder of an acute or chronic nature.
A wide range of interventions can be employed to address pain and impairment and thereby achieve an improvement in function and quality of life, including manual therapies to restore soft tissue and joint function, exercise/rehabilitation programmes, electrotherapy modalities, acupuncture, self-management advice and education. Care is primarily delivered on a one-to-one basis with a named physiotherapist. However, it may be provided through a class-based format where this is considered to offer greater potential for improvement. In addition to registered staff the delivery of care is also supported by physiotherapy assistants and technical instructors. All of the physiotherapists are registered with the Health and Care Professions Council and are members of the Chartered Society of Physiotherapy.
Referral criteria
Referral Prioritisation

All referrals are triaged as either urgent or routine in line with clinical need. To help us triage accurately please tell us whether the patient:
is currently off work due to this problem
has sustained a recent injury and when this occured
is a main carer and is unable to deliver care due to this problem
is post-operative, include relevant details
has recently received a corticosteroid injection for this problem
has a pregnancy related problem.
Criteria exclusion
Some problems are unsuitable for MSK Physiotherapy. These are: Neurological conditions Patients under 16 Respiratory conditions If we receive a referral that would be better suited to another service, we will forward it onto them if possible or return the referral back to you.
How to access this service
All referrals are triaged by experienced physiotherapy staff. We try to contact all patients by telephone to book them a mutually agreeable appointment. You can download the referral form here. You can submit your referral form by any of the routes below:
By Email: msktherapyreferrals@leicspart.nhs.uk

Via Choose and Book link: https://nww.ebs.ncrs.nhs.uk

Referrals can be sent by post to:

MSK Therapy Booking Office, Loughborough Hospital, Epinal Way, Loughborough, Leicestershire. LE11 5JY
What conditions do you cover
Those who are affected by a musculoskeletal disorder of an acute or chronic nature.
Contact info
msktherapyreferrals@leicspart.nhs.uk