LPT, with other healthcare partners in Leicester, Leicestershire and Rutland is making changes to the way support is provided for patients currently receiving care at Leicester's Hospitals for non-urgent mental health needs.
Here, in the document below, we set out the background to the changes, outline what the changes are and invite feedback of service users, carers, advocacy groups and other stakeholders. Your views will help us to shape quality services both now and into the future.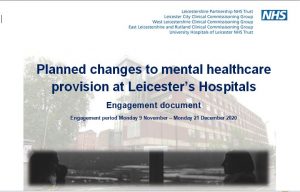 Download the engagement document
To give feedback: Use the form in the engagement document
Or you can:
Use our online feedback form 
Download an editable feedback form
Joining an event? How to join an MSTeams meeting (this will provide guidance if you want to participate in one of our November engagement events and have not used MS Teams before)
This engagement will be open from Monday 9 November to Monday 21 December 2020. Feedback will be collated and themed and shared on our website from Monday 11 January 2021.