LPT has embarked on what might be the biggest transformation journey we have ever been on: to create a better experience of our mental health and learning disabilities services co-designed with and for our service users, carers, and staff.
Our transformation programme will address key drivers of increasing demand and capacity issues to improve quality, efficiency and overall experience for all. We are committed to bringing our service users and staff along with us on that journey, so that we can co-design improvements that will make our service experience excellent.
Dr Peter Miller, chief executive of LPT introduced the transformation as: "the mental health and learning disabilities system as a whole is fractured. You are working under significant pressures – large caseloads, many people still waiting a long time for support and the system not always making it easy for people to get the support when they need it. We need to do something radically different if we are to work as a system and mend the fractures. With your insightful involvement, alongside patients and carers who use our services, I believe we can redesign our system to work well for all."
We have been inspired by the learning of Northumberland Tyne & Wear NHS Foundation Trust as they transformed from a CQC 'requires improvement' to 'outstanding' rating. By adapting their methodology to suit our local needs, we are embarking on our own 5-year journey in partnership with staff, service users, and carers, to create radical difference in the way we support people with mental health and learning disability needs. We begun that journey with the Healthier In Mind engagement campaign, and now we have begun our very own 'All-age transformation'.
Have a look at our All-Age Transformation FAQ Document for further information.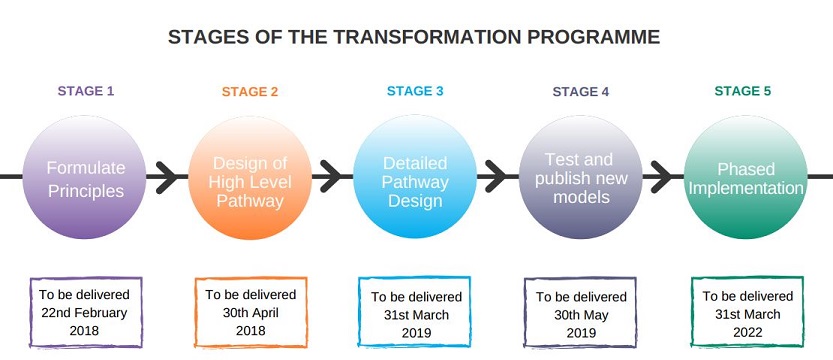 All-Age Transformation news and updates
Big conversation from 7 December: Early Results
Introductory letter to staff from Dr Peter Miller, chief executive of LPT
Get Involved
We are committed to co-designing this transformation with staff, service users and stakeholders. If you'd like to get more involved in any aspect of this project, get in touch at MHLDtransformationteam@leicspart.nhs.uk