Our Valued Star Awards
Each month we have two awards that colleagues and teams can be nominated for:
An Individual Valued Star
A Team Valued Star
We have up to 10 winners per award – that's up to 20 winners a month and more chances to win and be recognised! Nominations for all colleagues including our temporary workforce and volunteers are welcome.
All winners will receive a coveted Valued Star pin badge and certificate.
All nominees will receive a thank you email from our chief executive, Angela Hillery.
More information about our Valued Star Awards
Our staff (including bank staff) and volunteers are our greatest asset, displaying hard work, commitment, passion and stepping up to great on a daily basis. We want LPT to be a workplace where there are lots of opportunities to say "thank you" and celebrate our staff – where everyone feels proud to be part of our LPT family.
Our monthly Valued Star Awards are about recognising individuals and teams who have gone the extra mile in the way they demonstrate any or all of our Trust values of compassion, respect, integrity and trust as well as our Leadership Behaviours: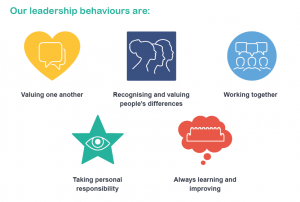 How do the awards work?
Up to 10 individual and 10 team Valued Stars will be picked on a monthly basis from all those nominated during that month by our Executive Team. The winner is then announced the following month through a surprise presentation by members of our Executive Team, who will visit them in their place of work and present a certificate.
If you have any problems submitting your nomination, contact the Communications Team:  lpt.communications@nhs.net