Our staff and volunteers are our greatest asset, displaying hard work, commitment and passion on a daily basis. We want to create a culture where there are lots of opportunities to say "thank you" and be an organisation that our staff are proud to be a part of.
How do the monthly awards work?
Each month we will have three winners:
An Individual Valued Star
A Team Valued Star
A Health and Wellbeing Hero
The monthly awards are about recognising individuals and teams who have gone the extra mile in the way they demonstrate any or all of our Trust values of compassion, respect, integrity and trust as well as our Leadership Behaviours: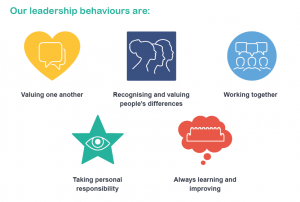 Supporting staff health and wellbeing remains a priority for us at LPT. The Health and Wellbeing Hero will go to an individual who has gone above and beyond to raise the profile of and improve the health and wellbeing of colleagues either locally or across the Trust.
June's winners
The Individual Valued Star Award goes to Cindy Lucas, teaching assistant at the Hospital School at the Beacon, FYPC.LD
The Health and Wellbeing Hero Award goes to Shelley Crossland, occupational therapist, DMH
The Individual Valued Star Award goes to Cindy Lucas, teaching assistant at the Hospital School at the Beacon, FYPC.LD
Nominating Cindy, Paul Howley (matron) said:
"Cindy is continuously fundraising on behalf of the young people at the Beacon Unit to contribute towards their health, wellbeing and make their hospital stay as pleasant as possible. At Easter Cindy raised over £800 through a raffle, where she had secured items from local businesses and donations. The proceeds of this were used to purchase a Nintendo Switch with lots of accessories and games which is used and enjoyed by the young people daily.
Cindy has also secured a breakfast funding offer from Greggs as part of the setup of a breakfast group.
Over the past few years Cindy has dedicated her own time to come into the ward on school holidays to help run Summer school sessions and activities for the young people out of term time. Cindy is a valued, kind and caring member of our team and an asset to the hospital school and ward."
Angela Hillery, chief executive, recorded a personal message for Cindy:
Upon receiving the award, Cindy said: "Thank you so much. This means so much and I really do enjoy working at the Beacon and supporting the young people."
The Health and Wellbeing Hero Award goes to Shelley Crossland, occupational therapist (OT), DMH
Consultant Zena Harvey who nominated Shelley said:
"Shelley has continually gone above and beyond when looking out for her colleagues wellbeing. She organises regular Wellbeing mornings, alongside her OT colleagues in the CMHT, which include a variety of activities, including walking round the local park, a coffee morning at the local canal side and yoga sessions.
There has been a January Step Challenge each year where the CMHT compete in two teams but she always makes it fun! She ensures each individual is doing well and will always help a colleague in difficulty. She even organises a complicated Secret Santa every year! A wonderful colleague to have to brighten up your The Health and Wellbeing Hero Award goes to Priti Parekh and Elaine Wilkins, deputy team leads!
Priti and Elaine received their nomination from Pretty Manyimo, Specialist Palliative Care Nurse:
"I nominate Priti Parekh and Elaine Wilkins as Health and Wellbeing Champions Priti and Elaine are hard-working, considerate colleagues who are dedicated to the wellbeing of teammates and themselves. They have very considerate and supportive to all team members.
They volunteered to be the link Nurses for the Health and Wellbeing. To help the team rebound from the pandemic, the two introduced a brilliant idea and set up Tree-of-Positivity which lights up the room day and night. The team can post anything positive and worth a praise. There is nothing as motivating as a praise. Every time I walk into the office, my attention is drawn to their Tree-of-Positivity and I always read the new messages of appreciation. To me these are the fruits of the Tree of Positivity as the comments and feedback is really encouraging and boost my morale. Priti and her colleague have managed to light-up positivity and put a smile on her nursing colleagues"
Cathy Ellis, chair and health and wellbeing guardian recorded a special message for Shelley. Watch Cathy's message
Well done to all those nominated:
Individual award
Laurette Grace, developmental primary mental health worker
Amber Nicklinson, healthcare assistant
Karen Yates, community psychiatric nurse
Mary Mahon, senior complaints officer
Nothando Masuku (Thandi), PICU and forensic staff nurse
Georgia Kirk, complex care nurse
Pravina Ramful, deputy ward matron
Geraldine Hirscher, team leader
Nominate your Valued Stars and Health and Wellbeing Heroes
Nominations are welcome for any member of staff or volunteer, from any profession, service or team, or from service users, carers or other members of the public. Simply complete the form on this page.
How do the awards work?
An individual and team Valued Star is picked on a monthly basis from all those nominated during that month by our Executive Team. The winner is then announced the following month through a surprise presentation by Chief Executive Angela Hillery, who visits them in their place of work and presents a framed certificate (please note that this is not currently possible with Covid-19 guidelines in place. Winners currently receive a personal message from our CEO and a certificate in the post).
nl/ The monthly Health and Wellbeing Hero will be picked by our Health and Wellbeing Team who will then send the winner a dedicated badge.
2020 Valued Star winners
Here is our 2020 Valued Star Wall of Fame:

January - Daniel Norbury, head of employment services and Charlotte Gibbs, acting
children's phlebotomy service lead
February -Rowan Kimber, healthcare support worker
March - Russell Hadfield, clinical category manager
April - Sarah Holliehead, head of procurement
May - Joanna Smith, physiotherapist
June - The Infection Prevention Control team
July - The Mental Health Triage Team at Leicester Royal Hospital
August - Melissa Angrave, staff nurse
September - Saskya Falope, team manager and Geeta Chauhan, meaningful activity coordinator
October - The Agnes Unit team
November - Meera Bentley, recovery college outreach worker
December - Emma Powell, community phlebotomist
2021 Valued Star winners
Here is our 2021 Valued Star Wall of Fame and our winners so far from this year:

January - Chloe Shepherd, generic technical instructor
February - The LD vaccination team at the Peepul Centre
March - Team Hinckley (North and East Wards) and The Charnwood Surge Team
April - Voluntary Transport Drivers
May - Outpatients' clerk, Natasha Peat - Valued Star Individual Award, City West Hub Admin Team - Valued Star Team Award, Beverley Hawkins, hospital nurse - The Health and Wellbeing Hero Award
June - ward administrator, Joy Duprey - Valued Star Individual Award, The Diana Team - Valued Star Team Award
July - Gillian Baverstock - Valued Star Individual Award, MSK physiotherapy team at Loughborough Hospital - Team Valued Star Award
August - Deborah Mason, ADHD nurse specialist - Individual Valued Star award, The adult mental health bed management team - Team Valued Star Award, Nissit Thakrar - Health and Wellbeing Hero award
September - Ellie Smith, healthcare assistant, FYPC.LD - Individual Valued Star award, The learning and development administration services team - Team Valued Star Award
October - Cathy Booth, occupational therapy clinical team leader, CHS - Individual Valued Star award, The admin team at North West Leicestershire CMHT - Team Valued Star Award
November - Rachel Cooper Norton, podiatrist, CHS - Individual Valued Star Award, Scarlett Sharp and her team on the Griffin Ward, Herschel Prins Centre, DMH - Team Valued Star Award, Lewis Henery, 360 Assurance - Health and Wellbeing Hero Award
December - Rajj Joshi, senior clinician/supervisor, DMH - Individual Valued Star Award, Community Immunisations Team, FYPC.LD - Team Valued Star Award
2022 Valued Star winners
Here is our 2022 Valued Star Wall of Fame and our winners so far from this year:

January - Andrew Starr, senior clinician, FYPC.LD - Individual Valued Star Award, The Employment Support Service, DMH - Valued Star Team award, Helen Molesdale, respiratory occupational therapist, CHS - Health and Wellbeing Hero Award
February - Clare Pope, matron, FYPC.LD - Individual Valued Star Award, Integrated Community Specialist Palliative Care Team, CHS - Team Valued Star Award
March - Alishia Harvey, health care support worker, DMH - Individual Valued Star Award, Elaine Cox, Liz Harper and the Warrens District Nursing Hub, CHS - Team Valued Star Award
April - Carl Fisher, staff nurse, CHS - Individual Valued Star Award, Outpatients Neurodevelopment Team, FYPC.LD - Team Valued Star Award, Priti Parekh and Elaine Wilkins, deputy team leads, CHS - Health and Wellbeing Hero Award
May - April Rice, community psychiatric nurse, DMH and Amanda Parke, trainee nurse associate, CHS - Individual Valued Star Award, East Central Community Nursing Hub Leadership Team - Team Valued Star Award
June - Cindy Lucas, teaching assistant, FYPC.LD - Individual Valued Star Award, Shelley Crossland, occupational therapist (OT), DMH - Health and Wellbeing Hero Award
If you have any problems submitting your nomination, contact the Communications Team:  lpt.communications@nhs.net