Our staff and volunteers are our greatest asset, displaying hard work, commitment and passion on a daily basis. We want to create a culture where there are lots of opportunities to say "thank you" and be an organisation that our staff are proud to be a part of.
How do the monthly awards work?
Each month we will have three winners:
An Individual Valued Star
A Team Valued Star
A Health and Wellbeing Hero
The monthly awards are about recognising individuals and teams who have gone the extra mile in the way they demonstrate any or all of our Trust values of compassion, respect, integrity and trust as well as our Leadership Behaviours: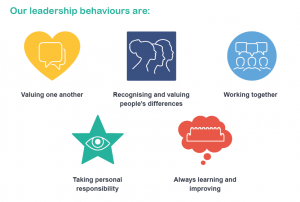 Supporting staff health and wellbeing remains a priority for us at LPT. The Health and Wellbeing Hero will go to an individual who has gone above and beyond to raise the profile of and improve the health and wellbeing of colleagues either locally or across the Trust.
March's winners
Our March Valued Star winners were…
The Individual Valued Star Award goes to Alishia Harvey, health care support worker, DMH
The Team Valued Star Award goes to Elaine Cox, Liz Harper and the Warrens District Nursing Hub, CHS
The Individual Valued Star Award goes to Alishia Harvey, health care support worker, DMH
Nominating Alishia, Donna Linnett, community psychiatric nurse, said:
"Alishia embodies the trust values of care and compassion. She goes above and beyond both in caring for her service users and supporting team members.  She can always be relied upon to support members of the team and will always offer any help she can give to colleagues.
Alishia has recently worked extremely hard to support a lady in such a caring and supportive way so that a lady has felt a huge positive change in both her mental and physical health. Alishia has helped her to clear space in her home which will eventually give her access to her outside space which has not been possible for many years. She has supported her in organising and accompanying her to medical appointments allowing the lady to have much needed relief from pain and improve her physical health.  Alishia has encouraged and supported her to such an extent that the lady has recently felt able to go out to have dinner with a friend  representing a huge step forward for her!
Alishia absolutely 'steps up to great' each working day, and I feel thoroughly deserves some recognition for the wonderful work she is doing with all of our service users."
Angela Hillery, CEO recorded a personal message for Alishia:
The Team Valued Star Award goes to Elaine Cox, Liz Harper and the Warrens District Nursing Hub, CHS
Zoe La Rosa, ward manager, who nominated the team said:
"I have been involved with the Warrens District Nursing Hub community team as I have been the project lead for the LIFE QI pressure ulcer prevention project. Part of this project involves training and supporting health care assistants to perform dedicated visits to patients at risk of developing pressure sores to prevent pressure damage by education and ensuring appropriate equipment is in place.
The team led by Elaine Cox and Liz Harper has been focused despite staffing issues have ensured the patient visits have been delivered at a quality level. Great feedback has been received from patients and their relatives A huge thanks to this team for forging ahead in difficult times and reducing patient harm in relation to pressure damage. A credit to nursing and their community team!"
Watch Angela's message to the team
Well done to all those nominated in March:
Individual award:
Gemma Slack, heart failure nurse
Sarah Smith, admin manager
Helen Stringfellow, physiotherapist
Abi Andrews, speech and language therapist
Rebecca Edwards, business support officer
Lisa Savage, clinic lead – city wound clinics
Sarah Skelton, podiatrist
Team award:
Community Podiatry Booking Clerks
Nominate your Valued Stars and Health and Wellbeing Heroes
Nominations are welcome for any member of staff or volunteer, from any profession, service or team, or from service users, carers or other members of the public. Simply complete the form on this page.
How do the awards work?
An individual and team Valued Star is picked on a monthly basis from all those nominated during that month by our Executive Team. The winner is then announced the following month through a surprise presentation by Chief Executive Angela Hillery, who visits them in their place of work and presents a framed certificate (please note that this is not currently possible with Covid-19 guidelines in place. Winners currently receive a personal message from our CEO and a certificate in the post).
nl/ The monthly Health and Wellbeing Hero will be picked by our Health and Wellbeing Team who will then send the winner a dedicated badge.
2020 Valued Star winners
Here is our 2020 Valued Star Wall of Fame:

January - Daniel Norbury, head of employment services and Charlotte Gibbs, acting
children's phlebotomy service lead
February -Rowan Kimber, healthcare support worker
March - Russell Hadfield, clinical category manager
April - Sarah Holliehead, head of procurement
May - Joanna Smith, physiotherapist
June - The Infection Prevention Control team
July - The Mental Health Triage Team at Leicester Royal Hospital
August - Melissa Angrave, staff nurse
September - Saskya Falope, team manager and Geeta Chauhan, meaningful activity coordinator
October - The Agnes Unit team
November - Meera Bentley, recovery college outreach worker
December - Emma Powell, community phlebotomist
2021 Valued Star winners
Here is our 2021 Valued Star Wall of Fame and our winners so far from this year:

January - Chloe Shepherd, generic technical instructor
February - The LD vaccination team at the Peepul Centre
March - Team Hinckley (North and East Wards) and The Charnwood Surge Team
April - Voluntary Transport Drivers
May - Outpatients' clerk, Natasha Peat - Valued Star Individual Award, City West Hub Admin Team - Valued Star Team Award, Beverley Hawkins, hospital nurse - The Health and Wellbeing Hero Award
June - ward administrator, Joy Duprey - Valued Star Individual Award, The Diana Team - Valued Star Team Award
July - Gillian Baverstock - Valued Star Individual Award, MSK physiotherapy team at Loughborough Hospital - Team Valued Star Award
August - Deborah Mason, ADHD nurse specialist - Individual Valued Star award, The adult mental health bed management team - Team Valued Star Award, Nissit Thakrar - Health and Wellbeing Hero award
September - Ellie Smith, healthcare assistant, FYPC.LD - Individual Valued Star award, The learning and development administration services team - Team Valued Star Award
October - Cathy Booth, occupational therapy clinical team leader, CHS - Individual Valued Star award, The admin team at North West Leicestershire CMHT - Team Valued Star Award
November - Rachel Cooper Norton, podiatrist, CHS - Individual Valued Star Award, Scarlett Sharp and her team on the Griffin Ward, Herschel Prins Centre, DMH - Team Valued Star Award, Lewis Henery, 360 Assurance - Health and Wellbeing Hero Award
December - Rajj Joshi, senior clinician/supervisor, DMH - Individual Valued Star Award, Community Immunisations Team, FYPC.LD - Team Valued Star Award
2022 Valued Star winners
Here is our 2022 Valued Star Wall of Fame and our winners so far from this year:

January - Andrew Starr, senior clinician, FYPC.LD - Individual Valued Star Award, The Employment Support Service, DMH - Valued Star Team award, Helen Molesdale, respiratory occupational therapist, CHS - Health and Wellbeing Hero Award
February - Clare Pope, matron, FYPC.LD - Individual Valued Star Award, Integrated Community Specialist Palliative Care Team, CHS - Team Valued Star Award
March - Alishia Harvey, health care support worker, DMH - Individual Valued Star Award, Elaine Cox, Liz Harper and the Warrens District Nursing Hub, CHS - Team Valued Star Award
If you have any problems submitting your nomination, contact the Communications Team:  lpt.communications@nhs.net