Our staff and volunteers are our greatest asset, displaying hard work, commitment and passion on a daily basis. We want to create a culture where there are lots of opportunities to say "thank you" and be an organisation that our staff are proud to be a part of.
How do the monthly awards work?
Each month we will have three winners:
An Individual Valued Star
A Team Valued Star
A Health and Wellbeing Hero
The monthly awards are about recognising individuals and teams who have gone the extra mile in the way they demonstrate any or all of our Trust values of compassion, respect, integrity and trust as well as our Leadership Behaviours: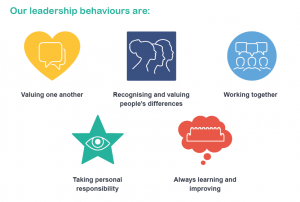 Supporting staff health and wellbeing remains a priority for us at LPT. The Health and Wellbeing Hero will go to an individual who has gone above and beyond to raise the profile of and improve the health and wellbeing of colleagues either locally or across the Trust.
February's winner   
February's Valued Star is… The LD vaccination team at the Peepul Centre!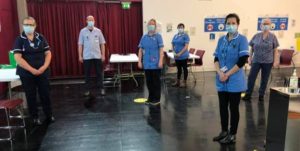 Angela Hillery (chief executive of LPT) recorded a personal message for the team. Here is the video:
Nominating the LD vaccination team,  LD Modern Matron, Clare Pope said
"I would like to nominate the whole LD vaccination team at the Peepul Centre.
It is amazing how they have worked together to get one of the forgotten cohort of individuals who are at high risk from Covid.
LPT as a trust has really stepped up to great and this team just shines through as having all of the Trust values.
Well done all."
Clinical lead and primary care liaison nurse for people with learning disabilities, Sam Screaton said:
"The clinics have been designed to offer reasonable adjustments to suit a variety of needs that people with a learning disability may have. We offer a longer appointment time which means people are not kept waiting and have lots of time to explore the environment and use accessible information. We have used lots of creative thinking; there's been singing, dancing, laughter and tears. It's been a truly humbling experience to be part of. I'm not sure my colleagues realise how truly skilled they are.
The feedback the team have had has been amazing, they have all played a huge part. Their passion, knowledge and experience has shone through and they have made such a difference to the lives of the people they have vaccinated and their families. They would just say they are doing their job but they are doing so much more than that. They are a shining example of learning disability staff who Step up to Great!"
Well done and thank you to the LD vaccination team for living our values.
Our staff and volunteers are our greatest asset, many demonstrating fantastic dedication and care on a daily basis. The Valued Star awards help you to say thank you to them.
Well done to all those nominated in February:
Amy Bestwick, advanced nurse practitioner
Anthony Crowe, Hector Blackman, Daniel Glasson, physiotherapist and technical instructors
Lesley Tooley, quality accreditation matron
Nicki Ward, clinical nurse specialist
Sara Lowe, CHS transformation lead
Beaumont Ward
David Harrison, charge nurse
Olivia Adams, charge nurse
Ruth Pook, community staff nurse
Frederic Barwise, podiatrist
Kayleanne Payne, healthcare assistant
Pat Bache, senior IT support officer
Susan Tipping, specialist nurse
Nominate your Valued Stars and Health and Wellbeing Heroes
Nominations are welcome for any member of staff or volunteer, from any profession, service or team, or from service users, carers or other members of the public. Simply complete the form on this page.
How do the awards work?
An individual and team Valued Star is picked on a monthly basis from all those nominated during that month by our Executive Team. The winner is then announced the following month through a surprise presentation by Chief Executive Angela Hillery, who visits them in their place of work and presents a framed certificate (please note that this is not currently possible with Covid-19 guidelines in place. Winners currently receive a personal message from our CEO and a certificate in the post).
nl/ The monthly Health and Wellbeing Hero will be picked by our Health and Wellbeing Team who will then send the winner a dedicated badge.
2020 Valued Star winners
Here is our 2020 Valued Star Wall of Fame:

January - Daniel Norbury, head of employment services and Charlotte Gibbs, acting
children's phlebotomy service lead
February -Rowan Kimber, healthcare support worker
March - Russell Hadfield, clinical category manager
April - Sarah Holliehead, head of procurement
May - Joanna Smith, physiotherapist
June - The Infection Prevention Control team
July - The Mental Health Triage Team at Leicester Royal Hospital
August - Melissa Angrave, staff nurse
September - Saskya Falope, team manager and Geeta Chauhan, meaningful activity coordinator
October - The Agnes Unit team
November - Meera Bentley, recovery college outreach worker
December - Emma Powell, community phlebotomist
2021 Valued Star winners
Here is our 2021 Valued Star Wall of Fame and our winners so far from this year:

January - Chloe Shepherd, generic technical instructor
February - The LD vaccination team at the Peepul Centre
If you have any problems submitting your nomination, contact the Communications Team:  communications@leicspart.nhs.uk