Staying at home more than usual? Sign up to the online NHS Citizens' Panel and help improve your local health services: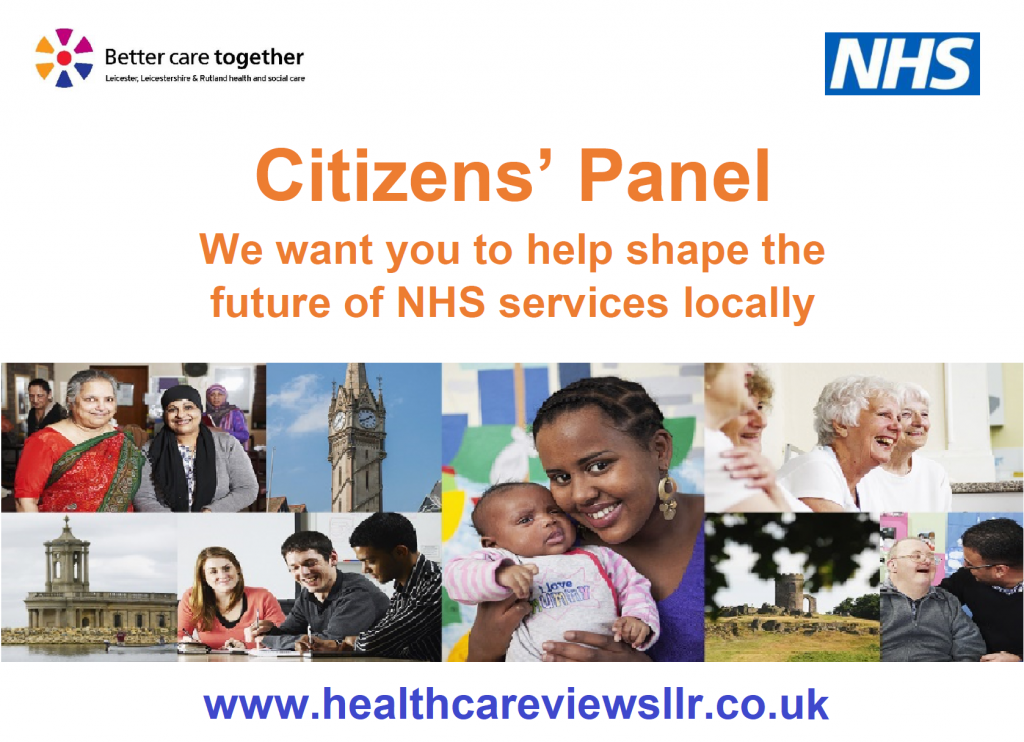 Local NHS organisations have launched a new online network, where members of the public can get involved in shaping the future of local healthcare services without having to leave their homes.
The Citizens' Panel has been set up for people in Leicester, Leicestershire and Rutland (LLR) to gather public views and opinions on a wide variety of health topics, which will be used to help plan services.
Richard Morris, Director of Operations and Corporate Affairs for the three Clinical Commissioning Groups (CCGs) in LLR, said:
"This is a really challenging time for everyone, and many people will be staying at home and not getting the chance to take part in their usual activities. We're fortunate though, that the internet can help us stay connected and this includes having your say on local healthcare.
"The Citizens' Panel will mostly take place online and it's your opportunity to help us improve the health services that thousands of people in the area use every single day. We want to know what we do well, what could be improved, and what you think of our future plans. Your feedback will be used to make meaningful improvements that will affect people's lives for the better and in this uncertain time is a great way to get involved.
"We want to hear from people across LLR and it's really easy to get involved. You could simply spend a few minutes each month, taking part in surveys, polls and questionnaires. You can do these on your mobile or laptop at a time that suits you. If you want to get more involved, in the future we'll be setting up the opportunity for people to join face-to-face focus groups, when it's safe to do so, on different health topics.. If you don't have an opinion on a topic or you're too busy to help, you don't have to. It's designed to fit around you."
The initial aim is for at least 1,000 people to sign up to the Citizens' Panel, which will be made up of people living across LLR, of varying age, gender, ethnicity and socio-economic status. The panel will help to ensure that the NHS can regularly seek the views of a representative sample of local residents on health and social care issues.
Evan Rees, Chair of the Better Care Together Patient and Public Involvement Assurance Group, said: "It's vital that the voice of local people is at the heart of the work and is heard and influences any developments. The Citizens' Panel will complement other existing patient engagement, such as events, social media, the CCGs' Patient and Public Engagement Groups and the Patient Participation Groups that are linked to GP practices.
"What makes the Citizens' Panel different is the number of conversations that will take place online; in this way we hope to reach out to people who perhaps wouldn't normally join a patient group, because they are busy or do not want to attend meetings. The set-up will be really flexible. It could also provide valuable volunteering experience for students or anyone looking to work in health and social care, to help boost your CV or include in job or college applications."
Anyone can sign up and members will receive a regular newsletter with information about health and social care and be asked for their views on health topics. To find out more about the Citizens' Panel and join visit www.healthcareviewsllr.co.uk